Let's Get This Party Started: Top Stories for Thursday 06/08/06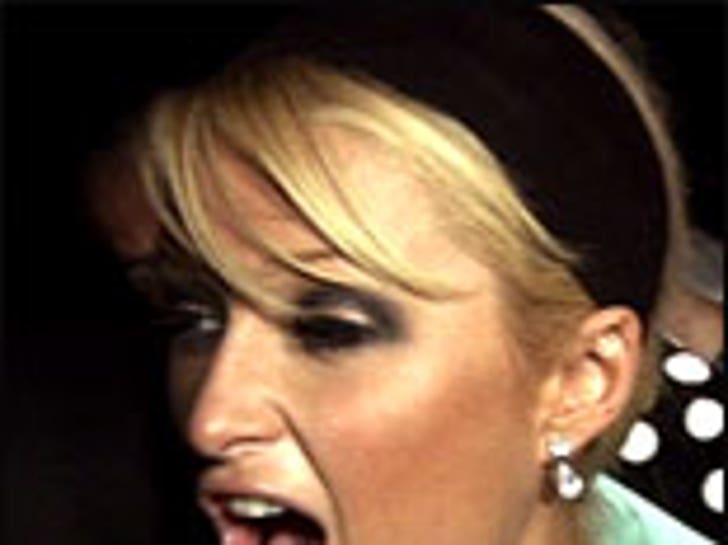 Reality Check: Paris Is Tainted But Hotter Than Ever
'Simple Life' and new single have caught fire
Just when Paris Hilton had reached the nexus of overexposure and the nadir of her public image, the world's leading lodging heiress' legion of fans still can't get enough of her.
The new season of her E! reality show 'The Simple Life: 'Til Death Do Us Part'' attracted four times the network's prime-time average, while her reggae-dusted single, 'Stars are Blind,' and its accompanying video, have become a phenomenon since their debut last week.
Nevertheless, some members of the boldfacing brigade have simply had enough. New York Daily News columnist Lloyd Grove, for instance, has grown tired of Paris' antics and banned coverage of her in his Lowdown column in December 2004 -- the first columnist to do so. "She's dead to me," Grove told TMZ -- and her name hasn't appeared in his column since.
Such a prohibition doesn't extend to rival Page Six, however. In today's edition, Paris is accused of parking in a handicapped space at the apartment complex of Arizona Cardinals quarterback and occasional Hilton boy-toy Matt Leinart. "I find the reports surprising," says one of the planet's more beleaguered men, Paris' spokesman Elliot Mintz.
Deal struck to start bringing Jack Bauer to big screen
Variety reports this morning that the producers of Fox's hit real-time drama '24' have closed a deal with Twentieth Century Fox to bring a film version of the show to theaters son.
Kiefer Sutherland has indicated that he wants to play his character Jack Bauer in the film, and Variety says that the narrative plan is for the show to ditch its real-time format and use a more conventional plot arrangement.
The film hasn't been "greenlighted" for production, but 20th Century Fox executives should have a script by winter, and will make the decision then.
Lohan Ripped for Taking a Powder
Repeated trips to restroom anger Anna
At Monday night's Council of Fashion Designers of America in New York, Lindsay Lohan irritated Vogue editor Anna Wintour because, according to a Page Six spy, she "got up to use the bathroom to powder her nose six times in two hours."
Whatever the reason, Lohan's behavior prompted Wintour to threaten never to invite the starlet to one of her events again, and Karl Lagerfeld, Lohan's date, was asked to "control" her. The classically gilded reply of Wintour's rep: "Anna was definitely surprised at how busy Lindsay was, but she offered no threat."
Baby Shiloh Officially -- "Legally" -- Appears
She's got Mommy's lips and Daddy's eyes
The long-awaited photographs of Shiloh Nouvel Jolie-Pitt are finally arriving – tomorrow. But the New York Post provides a preview of the People magazine cover story today, and the paper says that the baby has her parents' most salient features – Brad Pitt's eyes and Angelina Jolie's famous lips.
Angelina's brother James Haven tells People that the couple's adopted son Maddox, 4, "imitated the way Brad held her just perfectly," and that he was overwhelmed by the "beautiful image" of the new family.
The magazine also reports that Shiloh attended her mom's 31st birthday party when she was just 8 days old, and that Pitt's parents, Bill and Jane, flew in from Springfield, Mo. to check out their new granddaughter.
Tom and Katie Sign a Prenup
Agreement will net Holmes up to $33 mil
Tom Cruise and Katie Holmes – remember them? – have negotiated a prenuptial agreement that, according to Life & Style Weekly via MSNBC's Jeannette Walls, will pay Holmes as much as $33 million if she stays married to Cruise for up to eleven years.
According to the magazine, Holmes' parents have been trying to get their daughter out of the relationship, but realize now that marriage is the way to play the game. "If she walks now, Tom will fight her for custody of [daughter Suri], and Katie can't outlast him in court," an insider tells Life & Style. "She knows she needs to marry him to get the money to fight him for custody, if it comes to that." Ah, modern romance.
These Heels are Made for Dancing
Jessica spins the night away in Chelsea but Lindsay can't get a table
Jessica Simpson and her hairstylist friend Ken Paves were dancing fools early yesterday morning, according to the New York Daily News' Lloyd Grove. Grove's spy at celebrity miniboite Double Seven spotted the pair "breaking it down, in the middle of everyone" on the club's tiny dance floor. "It was weird, like you were at your cousin's wedding," says the spy. And the verdict on Simpson's moves? "The girl cannot dance."
The not-quite-of-legal-drinking-age Lindsay Lohan apparently tried to gain entrance to Double Seven but couldn't get a table.
Paula Takes Bizarre Act to Blighty
Abdul to be judge on Cowell's 'X-Factor'
Paula Abdul will give English audiences a glimpse of her public cry for an intervention when she appears as a judge on Simon Cowell's 'The X Factor,' an 'American Idol'-like talent show in the UK.
What should make 'The X Factor' even more interesting is the fact that, by contrast to 'Idol,' each of the four judges takes on an act to coach. If this season on 'Idol' is any indication, Abdul's fitful outbursts of both shrieking and crying will no doubt be a terrific influence on the show's young artists.
'The X Factor' will debut in August in England.