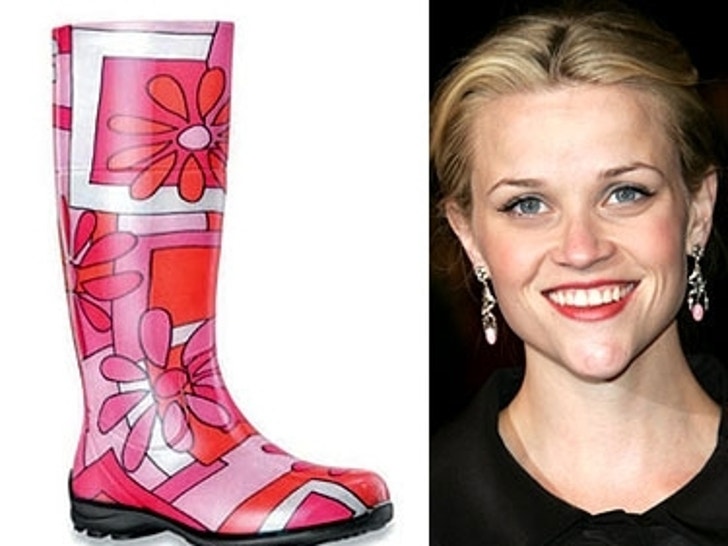 Rain boots appear to be the new Uggs. Kamik Boots are the latest craze that A-listers and their kids love to splash around in...come rain or come shine.

The Canadian-based company has made a name for itself designing fashionable and dependable footwear that's made to withstand all that the outdoors has to offer. The list of celeb fans of Kamik's unique bold designs is long. Hollywood moms and their tots love to match their Kamiks.

Kamik's orange Daisy rain boots are a hit with Courteney Cox and daughter Coco, Brooke Shields and daughters Rowan and Grier, Gwyneth Paltrow and Apple, Reese Witherspoon and Ava (who also adored the adorable along with the pink daisy boots), Kelly Ripa and Lola (as well as the purple squiggles). Kate Hudson owns the orange daisy boots and her son Ryder trots around in the rain in the brown camouflage. Madonna's daughter Lourdes also owns the orange daisy version and her son Rocco sports the- what else?- brown camouflage.

Kamik's Stomp rain boots are also a favorite amongst celebs. Reese Witherspoon's son Deacon parades in the pouring down rain in the boot in navy, Gwyneth Paltrow's son Moses has the yellow Stomps and (not to be out done) Apple has the red- natch- Stomps. Rounding out the list is Kelly Ripa's son Joaquin rocks his in red.
Kamik rain boots are made with a new technology that results in clearer graphics with no distortion and eliminates the front and back seam that otherwise ruins the design of boots. And just when you thought you couldn't keep your feet dry on a budget... never fear. Kamik's rain boots retail between $25 - $50.