Stars Are Blind -- And They Can't Drive Either!
Stars Are Blind
And They Can't Drive Either!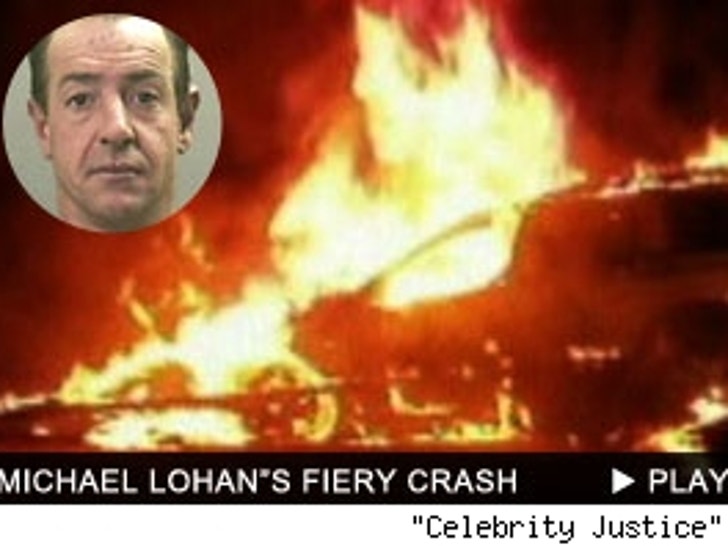 Your average celebrity is capable of doing a multitude of things: star in a blockbuster film, release a number one album... or maybe even both! But it seems like for all their "star powers" they seem to lack one essential skill (at least if you live in Hollywood) - they can't f'n drive!!!
Not to make light out of potentially harmful incidents, but seriously, what is going on in Tinseltown? With the recent incidents of Daniel Baldwin and Haley Joel Osment, it made us think back to some other recent celebrity car mishaps, a lot of which were caught on tape.
The Lohan Family
Like father, like daughter. Michael Lohan escaped death after crashing his car into a pole and it burst into flames. He had been driving with a suspended license at the time and had a blood-alcohol level nearly double the legal limit. Check out the video of his charred Volvo - hard to believe he walked away unscathed.

And his daughter has been involved in not one, but two vehicular mishaps. In the second one, Lindsay crashed her Mercedes on Robertson Blvd. in a trendy area of Los Angeles - and right near celebrity hotspot the Ivy. After the crash, Lohan ran into the nearby Hideaway House Antiques shop to hide from the paparazzi. While plenty of photogs were on the scene, as one eyewitness would tell TMZ, they were not responsible for this accident.

Paris Hilton and Stavros Niarchos
How these two still even have a driver's licenses is beyond us. Back in November 2005, Stavros crashed Paris' Bentley into the back of a parked trunk - with TMZ's cameras rolling (thanks Stavros!).

Last month, Paris backed her into a parked Honda Civic. We can't imagine what these two are like when surrounded by other MOVING vehicles.

And just this week, Paris was pulled over by Los Angeles County Sheriff's Department for driving too slow in West Hollywood.

Chris Tucker
The "Rush Hour" star was arrested in Georgia in April 2005 for speeding. He was allegedly clocked doing 109 miles per hour in his 2005 Bentley. So where was Tucker in such a hurry to get to? Why, church services in South Carolina, of course.
He pled guilty to speeding and eluding police and was fined $6,999. The 32-year-old comedian told authorities that he didn't hear their sirens, presumably because the Lord was already talking his ear off.
Tyson Beckford
Cover model Tyson Beckford suffered a few injuries to his famous mug when his truck was rammed off the road in June 2005. As he explained, "My lip was busted, one of my teeth was knocked out and my eye was swollen shut ... My nose was fractured and the blood was squirting out of my face.
Check out the video of Tyson explaining what happened -- plus footage of his burning truck.