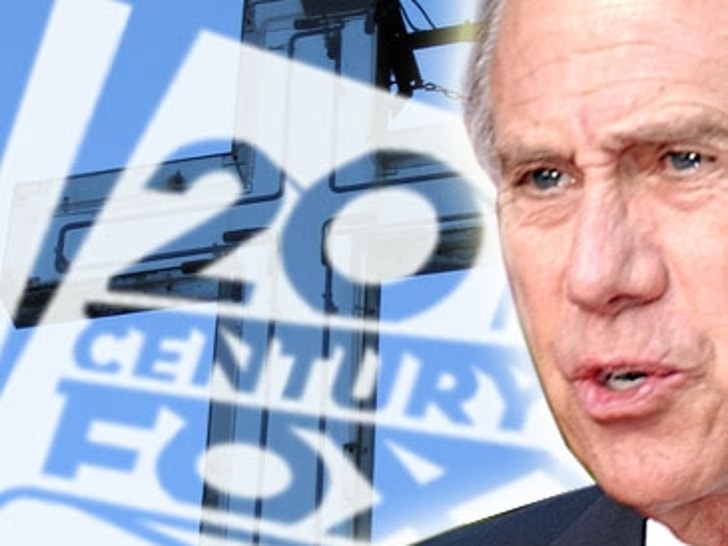 Exactly one hundred and fifty-two years ago today, Henry David Thoreau published ''Walden,'' an account of the two years he spent living in a small cabin he built in the woods next to Walden Pond in Concord, Massachusetts.
So it's a weird confluence of history and headlines that today's Daily Variety blares, "On Walden Pond," announcing the story we broke two weeks ago: Conservative Christian billionaire Phillip Anschutz is parking his Walden Media production company at Fox, which will exclusively distribute all its movies.

There's not so much new ground covered in the trade's piece, but it at least does disclose a few new films that will be part of the Fox agreement, including the first: "Mr. Magorium's Wonder Emporium" in which Dustin Hoffman will play a "a 243 year old eccentric" -- in other words, finally, Dustin isn't being cast against type.
Also part of the deal: A feature adaptation of "The Dark is Rising," based on the hugely popular Susan Cooper books of the same title, which as usual for Walden, features a good-vs.-evil confrontation with heavily Christian overtones. As Cooper herself once remarked about "Rising," "I was raised in the Church of England, drenched in liturgical music and marinated in the King James Bible...even though I turned away from Christianity when I was sixteen, you don't get rid of God and the Devil as easily as that."
Interestingly, what producers usually want from studios -- development, marketing and distribution -- Walden only wants a third of: According to Variety, "The new label will handle only marketing. Fox will distribute all the titles the new company markets, while the production and development staff will continue to be housed at Walden Media."
In simple English, Anschutz doesn't trust Fox to develop or market his movies; he only wants the clout of its distribution network.
It's a genius move, because movie exhibitors will treat you like a punk when it comes time to divvy up the box office loot, unless you've got movies they want to exhibit down the road.
Witness what happened to Mel Gibson when "The Passion of the Christ" was distributed without a studio to do the negotiating for it: Because it didn't have any other big movies forthcoming, Newmarket, the indie distributor of the film, got roughed up by exhibitors. So roughed up, in fact, that Gibson had to go to court and sue to get his fair share of the "Passion" profits from Regal Cinemas, the nation's largest movie theater chain.
And who, pray tell, owns Regal Cinemas?
Why, none other than Walden Media's Phillip Anschutz, of course.