50 Cent Busted in Silver Lamborghini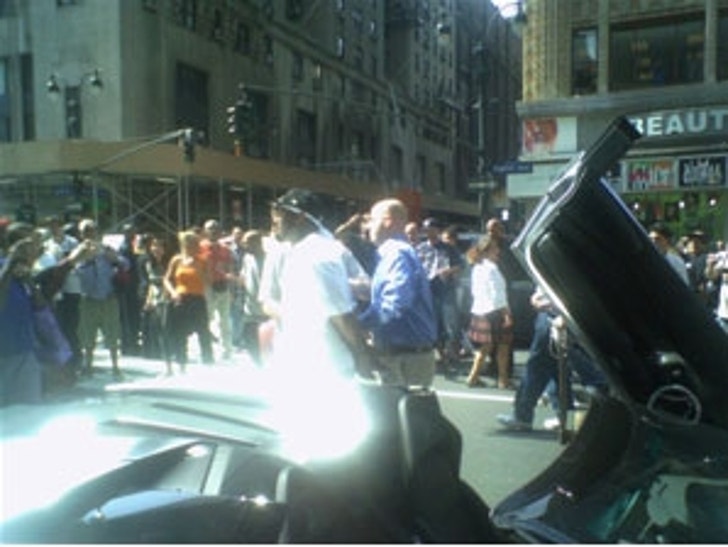 TMZ has confirmed that rapper 50 Cent (aka Curtis Jackson) was arrested around 2:00PM this afternoon in Manhattan. Law enforcement officials in an unmarked car pulled over the star's silver Lamborghini at the corner of 8th Ave. and 35th Ave. in Midtown New York after they say he made an unsafe lane change.

Police tell TMZ they removed Fiddy from his car and cuffed him in front of several witnesses. Because of the crowd that began gathering around the scene, cops determined it to be an unsafe situation so they took him to a police station down the street from the scene. The car was not towed as police tell TMZ there was no reason to impound the car.
Police issued 50 four summons: one for an unsafe lane change, one because his driver's license had expired, one because his Lambo is unregistered with the state and another because the car is also uninsured. He was issued the tickets and released.
The gangsta rapper has a long and storied history with police, starting from when he was busted in a high school gym class in 1994 for hiding crack vials in his sneakers. He was then nailed again that year for felony drug charges; with these busts occurring only three weeks apart.

In 2002, the rapper found trouble again when he and members of his entourage were arrested after New York police allegedly found two loaded guns in the rapper's SUV. All five occupants of the vehicle were charged with two counts of criminal possession of a weapon.

Of course, Fiddy is perhaps most known for surviving a brutal attack in 2000, where he was shot nine times in front of his grandparent's house in Queens, NY.
Calls to 50's reps were not immediately returned.