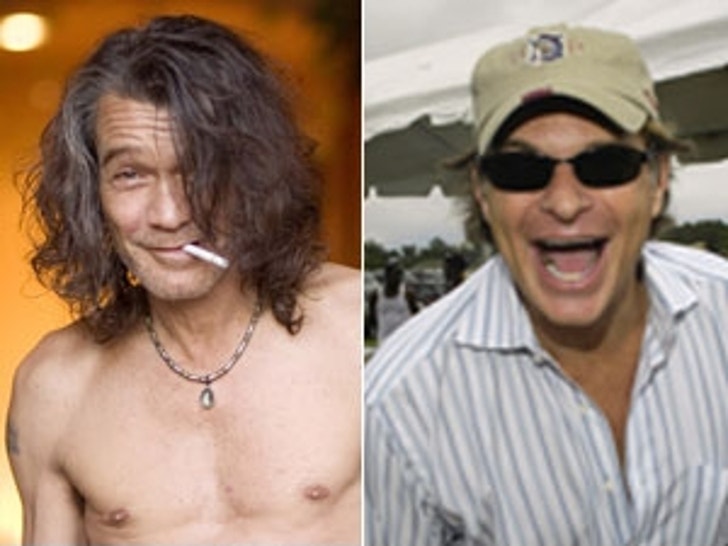 Ok, we've been through many of these Van Halen reunion rumor cycles over the years. And, I'm sure we're still aways off from this actually happening, if it ever does, but last Friday Eddie Van Halen at least opened to the door slightly to once again sharing the stage with David Lee Roth.
Eddie called in to the Howard Stern Show last Friday and Howard pressed him about the possibility of a Van Halen reunion. In addition to announcing he was now cancer free, Eddie said he was open to playing again with Roth. No specific plans were mentioned, but now that it's out there I fully expect David Lee to be making a pitch to his old pal.
Van Halen also told Stern that his next music project will be recording with his son Wolfgang and brother Alex Van Halen (drums). Will Wolfgang be doing vocals? I'm willing to bet it won't be Alex or Eddie. Enter Diamond Dave? However, if Roth does make his way back on stage with the Van Halen brothers, it may not be a complete reunion. Eddie is apparently not happy with bassist Micheal Anthony for touring with that other former VH lead singer, Sammy Hagar. Speaking with Stern, Eddie dismissed their "Other Half" project as merely a cover band. Anthony is not only a top tier bass player, but his harmonizing abilities added important dimensions to many VH tunes. VH without Anthony would be lacking. However, Eddie's son just happens to be a bass player...so will it be Wolfie and David Lee rounding out the next version of Van Halen? We'll have to wait and see...