Lindsay to Mom: "Go to Hell!"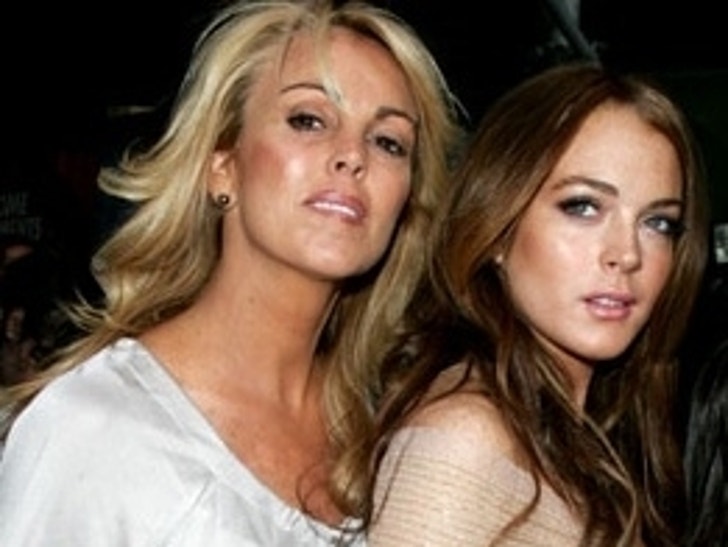 The bad blood between Lindsay Lohan and her jailed father Michael is common knowledge-and now it seems Lindsay and her mom Dina may be on the outs. When Lindsay arrived at a swanky Chinese restaurant on Manhattan's Upper East Side the other night for a birthday celebration for Dina, she was dismayed to find that Dina and her friends were already into their second bottle of Cristal, according to Page Six. Right after the first course arrived, Lindsay and her mom started going at it.

Fellow restaurant patrons Ryan Cabrera, Brandy and Serena Williams, sitting at other tables, were horrified when Lindsay and her mom started hurling curse words at each other. Finally, Lindsay stormed out, telling her mom to "go to hell," leading Dina to start crying uncontrollably. She proceeded to type furiously on her BlackBerry for 45 minutes, eyewitnesses report, then started throwing fortune cookies at the waiters-and burst into tears again when her birthday cake came out.
Lindsay, on the other hand, made her way downtown to a fashion week party for Calvin Klein, where partygoers reported she seemed upset at her mom's breakdown, though she smiled for TMZ's cameras on the way out. Dina and Lindsay are often seen out at parties together, but this may signal a new stage in their relationship. Now that Lindsay's seemingly settled down with the lower-key Harry Morton, perhaps her mom's own nightcrawling ways are no longer appealing? Of course, Lindsay was seen ending the night at Bungalow 8, so it seems like she's still up for a good time herself.
Affleck Misses Out on Rare Kudos
They say the early bird gets the worm, but Ben Affleck probably wishes he hadn't left the Venice Film Festival early to get a jump on traffic-he won the Best Actor award for his role as George Reeves (TV's Superman) in his new movie "Hollywoodland." The actor told Us Weekly, "If I thought for a second that there were going to be awards for anybody, I would have stayed!" Affleck is banking on "Hollywoodland" to jump-start his flagging career, which took a nosedive somewhere around "Gigli" and never really recovered-and he knows it: "I have to prove myself all over again, but I don't mind that. Once I realized where things were going, I just said, 'OK, let me make sure I'm in a place where I don't have to worry about being on 'Family Feud' for dough in five years and then I'll just do what I can be proud of."
"King's Men," Others Bomb at Toronto Fest
Despite its Oscar-studded cast and source material of incredibly high quality, Sony's "All The King's Men" is looking like a disappointment of epic proportions, with one critic calling it a "nuclear" bomb and others deriding it as "fatally miscast." The film, based on the novel by Robert Penn Warren about a fictional governor of Louisiana, stars Sean Penn, Anthony Hopkins, Kate Winslet, and Jude Law, among others, but Variety's Todd McCarthy called it "overstuffed and fatally miscast" and says that it "never comes to life."
Other Toronto pictures, like "Bonneville" and "Death of a President," were also underwhelming, though it's not a new phenomenon in Toronto, at least in recent years: "Elizabethtown" and "The Human Stain" both came in with high expectations and left with their reputations sullied.
Party Favors: Pregnancy Edition
Amanda Peet, star of the upcoming NBC sitcom "Studio 60 on the Sunset Strip," has confirmed that she's pregnant. In August, several tabloids reported that Peet was pregnant (she's engaged to actor and writer David Benioff), but she hasn't confirmed until now ... Meanwhile, Napoleon Dynamite himself, Jon Heder, has announced that his wife Kristin is pregnant with their first child. The couple, who met at Brigham Young University, have been married for four years, and Heder has a movie, "Mama's Boy," coming out later this year.