Monroe? Einstein? How Are They Still Rich?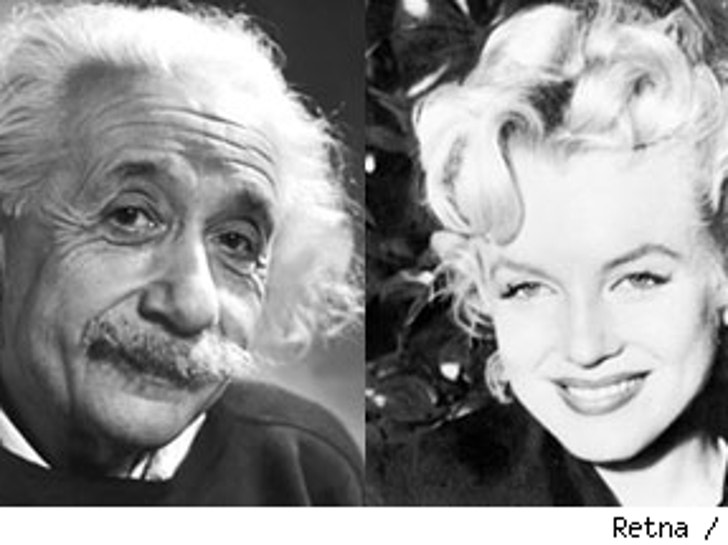 Forbes has once again released its annual Top-Earning Dead Celebrities list, and while it's no surprise why most of the buried big shots made the list (Kurt Cobain, John Lennon and Elvis are all still banking from music sales) there were two lifeless wonders that left us scratching our heads -- Albert Einstein and Marilyn Monroe.

According to Forbes, Marilyn Monroe raked in a cool $8 million last year, earning her the ninth spot on the dead earners list. But where is it all coming from? Nearly a half-century after her death, the blonde bombshell is still cashing in on her image -- or rather the licensing of it.
Just recently, Marilyn's image was used to sell perfume in Europe, Dom Perignon champagne, Absolut vodka and vehicles for General Motors. And don't forget about the thousands of lesser-known products with Marilyn's face on them ranging from t-shirts to posters. Just like J.F.K., seems like the world can't get enough Marilyn.
When Forbes listed Albert Einstein as the number five earner with a whopping $20 million take, our first thought was "How many posters of Einstein sticking out his tongue did this guy sell?" Well, it turns out licensing your name to the explosive world of educational baby videos can be quite lucrative. The "Baby Einstein" series of videos and toys generated $400 million in profit last year -- with $20 million going into the coffers of the Hebrew University of Jerusalem, which controls the Einstein estate.
Even in death, blondes (and geniuses) have more fun.