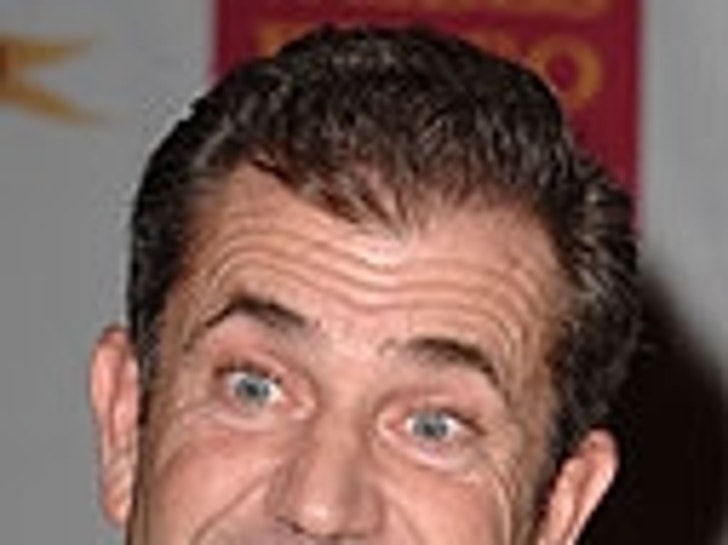 Kanye West was so miffed at not winning the award for Best Video last night at the MTV Europe Music Awards that he stormed the stage and went on a bizarre, expletive-filled tirade to protest.
Even though he'd won the award for Best Hip-Hop Artist earlier in the evening, West jumped out of his seat in Copenhagen when Justice and Simian (no, we haven't heard of them either) won the Best Video prize for "We Are Your Friends," and crashed the award presentation! He told the stunned audience that he should've won for his "Touch The Sky" because it "cost a million dollars, Pamela Anderson was in it, I was jumping across canyons." And, he added, "If I don't win, the awards show loses credibility."
Elsewhere at the awards, Justin Timberlake, who hosted, won two awards, while the Red Hot Chili Peppers won Best Album.
Mel: I've Got a "Gringo Gut"
Mel Gibson can't handle his booze – and apparently not Mexican food either. He told an audience of Latinos who were actually honoring him for his "Apocalypto" that he has "the gringo gut" and that, during shooting in Mexico, he was "crawling around on [his] hands and knees some days," which, as the AP icily notes, was met with "trails of laughter."
The actor, whose DUI arrest and anti-Semitic tirade will be fictionalized on "Law & Order" tonight, picked up the Chairman's Visionary Award from the Latino Business Association in Beverly Hills. Gibson told the audience that casting unknowns for "Apocalpyto" was like "being at the Super Bowl and getting your quarterback from the audience." He says he cast one actor after seeing him in a juice bar.

For $13 Grand A Month, "SNL" Star Gets Bedbugs for Free
You know that saying about not letting the bedbugs bite? "Saturday Night Live" star Maya Rudolph "Boogie Nights" director Paul Thomas Anderson found out why people say it after their $13,000-a-month Manhattan loft was infested by the tiny creatures. According to a $450,000 lawsuit filed in New York, the couple and their baby moved into the loft last month and immediately found themselves being chewed at night. "The plaintiffs were bitten over portions of their bodies by bedbugs," say the court papers. What's worse, alleges the couple, the elevator in the building was broken so they couldn't escape the infestation easily. The family has moved out -- and have stayed out. The building management had no comment.
Busta Rhymes Busted Again
Yo, Busta: Best not to break the law right in front of the police station. Trouble-prone rapper Busta Rhymes (real name: Trevor Smith) was driving past the Midtown North police precinct in New York last night, reports the New York Daily News, when cops there spotted him talking on his cell phone without a headset while driving, which is a violation of New York state law. The rapper was given a ticket for the offense. In August, Rhymes was charged with assault for allegedly beating up a Bronx man who he says spat on his car.

Party Favors: Cruise's Next Film "Maguire"-Esque ... Streisand Heckler Was – What Else – An Aussie ... Geffen May Have Sold Pollock Dripper for $140 Million
Tom Cruise, newly installed at United Artists, will be making a "dramedy" for UA in the vein of "Jerry Maguire," says FOX News, which adds that MGM has suggested that rather than an action megamovie ... Barbra Streisand's heckler unmasked: The man who threw a drink at Babs during a recent concert was an Aussie with no "political motive or message." Instead, he had just had "one or more too many beers," according to Streisand's flack Dick Guttman (via Page Six). ... Hollywood supermogul David Geffen has sold a famous drip painting by Jackson Pollock for $140 million, believed to be the largest amount ever paid for a painting. Geffen may use the money to buy the Los Angeles Times, says the New York Times.