So, HOW Do You Know Tom and Katie Again?
So, HOW Do You Know
Tom and Katie Again?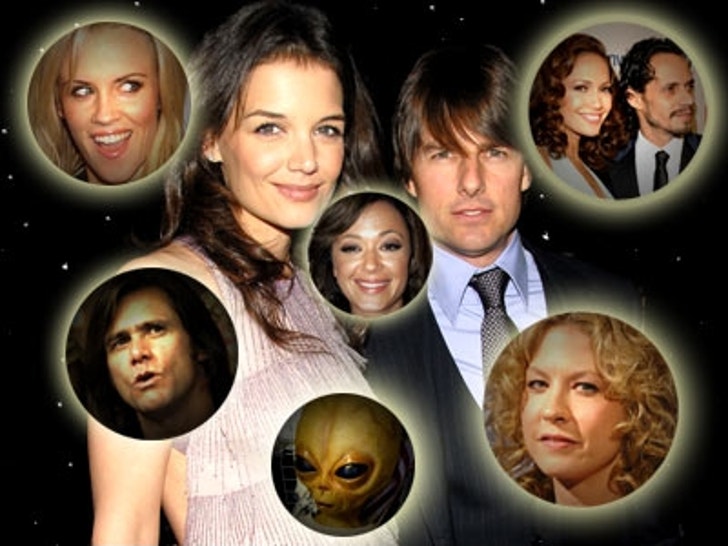 Who knew that TomKat and J.Lo were such bosom buddies? Not us -- maybe not even them.
Given that we thought the guest list at the Cruise-Holmes nuptials in Italy seemed more like a Fellini film, or an episode of "The Surreal Life" -- Marc Anthony? Jenny McCarthy? Jenna Elfman? -- we tried to break down exactly what some of these people were doing all the way over in Bracciano, so far away from home. It should make for some awkward moments during the dinner hour.
Several of the guests -- John Travolta, Elfman and her husband Bodhi, and Leah Remini -- are members of the Scientology tribe, so that makes sense. But what about J. Lo? It turns out that Lopez and Remini are close pals ... and remember that Remini was the first celeb to cop to a Suri sighting, so we know she's in the inner circle.
Now we're pretty sure that Jenny McCarthy and TomKat haven't worked together on anything recently, but J-Mac's squeeze, Jim Carrey, used to go out with Renee Zellweger, who, of course, was Cruise's co-star in "Jerry Maguire." No word from Carrey's rep on whether this rather tenuous connection is the precise reason for his attendance.
Perhaps J.Lo's husband Anthony said it best in a toast he reportedly gave last night in the bar at the wedding hotel in Rome: "To life, to the occasion, and to new friends." Or, as the case may be, complete strangers.