"You Really F--ked With the Wrong Drug Addict"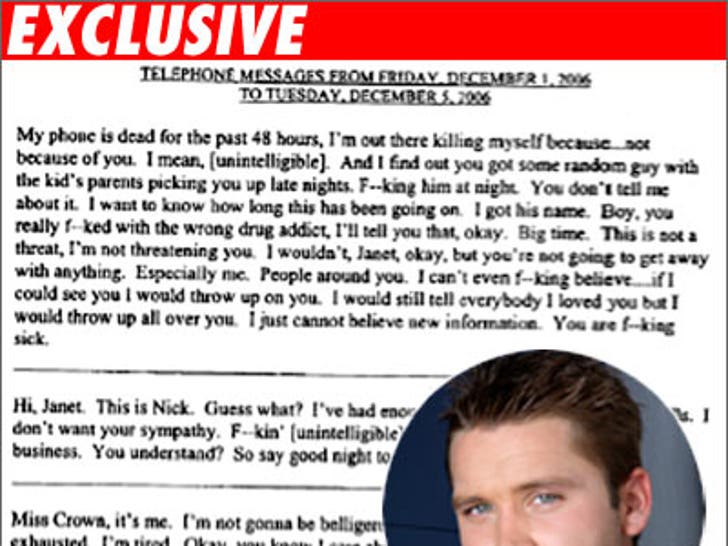 TMZ has obtained chilling legal papers detailing how the children of the so-called Trainer to the Stars were allegedly threatened by his estranged wife's ex-lover.

Gunnar Peterson, who trains a slew of Hollywood A-listers, is in a nasty divorce with billionaire heiress Janet Peterson. Peterson was romantically involved with Nick Marino, but ended it four months ago. Two days ago, Marino was stabbed by a security guard after allegedly breaking into Janet Peterson's home.
In an application for a restraining order, filed by Janet Peterson just hours before the stabbing, she claims Marino "is seriously abusing drugs and alcohol again and that his behavior represents an imminent danger to me and my family." Peterson claims "he has stalked me at my residence, has broken into my office, and has sent me a stream of abusive text and cell phone messages," threatening to "come over to my house and 'take my children.'"

In a voice message Peterson received Wednesday, Marino allegedly said she "was lucky that I didn't break into your house last night and take the children."
Peterson claims Marino "has been significantly abusing alcohol and drugs, specifically smoking rock cocaine." She says he left her a telephone message last Tuesday threatening, "Boy, you really f--ked with the wrong drug addict..."
According to legal papers, Marino had allegedly broken into her office, leaving beer bottles behind and stealing her driver's license.
In the documents, Janet says Marino once told her "I think Gunnar's crazy." Gunnar, by the way, did not request a restraining order to keep Marino away from his children.
Marino was placed under arrest for alleged stalking, burglary and making criminal threats.