Brit & Paris: Just Friends?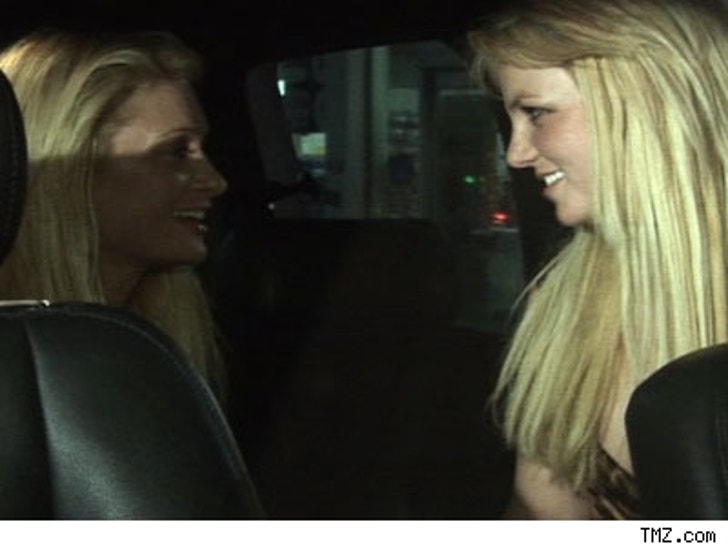 They've been spending lots of time with each other, sleeping over at each others' places, and they like going out sans panties – could there be more than just friendship between Britney Spears and Paris Hilton?

Don't think so. The two galpals are just "friends," as MSNBC's The Scoop reports, and any speculation to the contrary is "silly," says Paris' rep Elliott Mintz. The buzz started when Paris was snapped stroking Spears' upper thigh, and then Paris was seen kissing another woman, raising eyebrows – and expectations.
Meanwhile, if Paris thinks she's got Stavros Niarchos on the hook, she might want to think again. Friends confirm that, despite her wearing a fake diamond solitaire on her left ring finger, the pair are not engaged. And, according to Page Six, Stavros' parents "have no intention of even meeting" Paris. They think she's "tacky," a feeling shared by Dreamworks honcho Jeffrey Katzenberg, whose son is dating Nicky.

Mel's "Apocalypto" No "Passion"
Mel Gibson's bloody Mayan epic "Apocalypto" managed to debut in the top spot at the box office this weekend with $14.3 million, but that was a far cry from the $83.8 million taken in two years ago by "The Passion of the Christ." Whether Mel's drunken and racist antics from the summer had any effect on the b.o. haul is unclear, but the fact that audiences actually went to see a hyperviolent, no-star, historical epic is mildly surprising. Meanwhile, the chick-flick "The Holiday" came in second at $13.5 million, and the controversial "Blood Diamond" opened at no. 5, with $8.5 million.
Diana's Driver Was Drunk, Says Report
The driver of the car in which Princess Diana was killed was drunk on the night of the crash that killed him, Diana, and Dodi Fayed, according to a new British report, says the BBC. The report, to be released Thursday by former police chief John Stevens, reaffirms a French judge's 1999 ruling that the death was an accident. The report also claims, according to one newspaper, that the U.S. Secret Service was bugging Diana's phone the night she died, but that the recorded conversations provided no new insight into Diana's death.

Party Favors: Gwyneth Not Getting Out of Dodge ... Prince to Perform at Super Bowl ... Dakota Wants to Direct
Gwyneth Paltrow and her husband Chris Martin aren't moving out of New York, even though their massive Tribeca loft was listed for $13.75 million late last month, report Rush & Molloy. The actress' rep says she "just finished decorating most of the place" and that the listing was "a mistake" ... His Royal Purpleness will be taking the field during next month's Super Bowl halftime show. No word if the NFL will let Prince perform "Sexy M.F." or "Darling Nikki" in Miami ... 12-year-old Dakota Fanning says she wants to direct. The "Charlotte's Web" star says she'd like to have "that relationship with another actor."