Brandy Tells Witness Fatal Crash Was Her Fault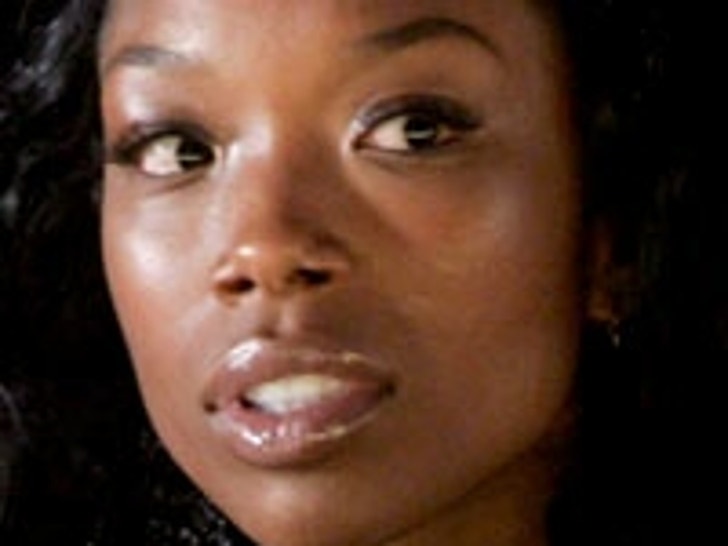 EXCLUSIVE -- BRANDY ADMITTED FAULT AT SCENE

In an exclusive conversation with the man driving directly behind Brandy at the time of her fateful crash, TMZ has learned that the singer repeatedly blamed herself at the scene of the accident.
"She got upset, talking about how it was all her fault ... she didn't stop, kept saying how she hit the lady," says the witness.
He added, "Brandy walked in front of traffic, crossing the lanes of speeding cars, then she did it again. People were honking at her to get out of the road. She was obviously disoriented and highly upset."
The witness also claims he tried to calm the hysterical singer, and even dished out some legal advice, saying he advised her to stop admitting guilt. He also consoled her by repeatedly saying "It was an accident."
The witness also claims he went over to check on the woman in the Toyota, but couldn't find a pulse.

TMZ has learned R&B sensation Brandy was involved in a fatal accident last month, and it appears to be her fault.
It happened at 10:30 AM on December 30, 2006 on the 405 Freeway in Los Angeles. Law enforcement sources tell TMZ Brandy was driving her 2007 Land Rover at 65 mph and did not notice that cars in front of her had slowed considerably. We're told Brandy's vehicle struck a 2005 Toyota. The Toyota then hit a 1989 Toyota. The 2005 Toyota then slid sideways and hit the center divider. As the 2005 Toyota came to a halt, it was struck by a 1988 Acura.
In a statement to TMZ from Brandy's publicist, Courtney Barnes, the singer confirmed her involement in a fatal crash: Brandy was involved in a car accident December 30, 2006 in Los Angeles where there was a fatality. She wishes to publicly express her condolences to the family of the deceased. Brandy asks that you respect the privacy of everyone involved at this time.
We're told the driver of the 2005 Toyota, Awatef Aboudihaj, was taken to Holy Cross Hospital in critical condition and she died the next day. Aboudihaj, a 38-year-old married mother of one, was a Los Angeles resident.
Brandy was not injured. The driver of the Acura suffered moderate injuries.
Brandy was not arrested and there is no evidence drugs or alcohol were involved.
Police are doing a mechanical investigation of the cars involved in the accident to determine if there was a malfunction.
Brandy's "Moesha" co-star, Lamont Bentley, was killed in January, 2005 when his car plunged off the same freeway. Another "Moesha" co-star, Merlin Santana, was killed by a gunshot wound while sitting in the passenger seat of a car in 2002.