Allegations of Violence & Sex Threats on TV Set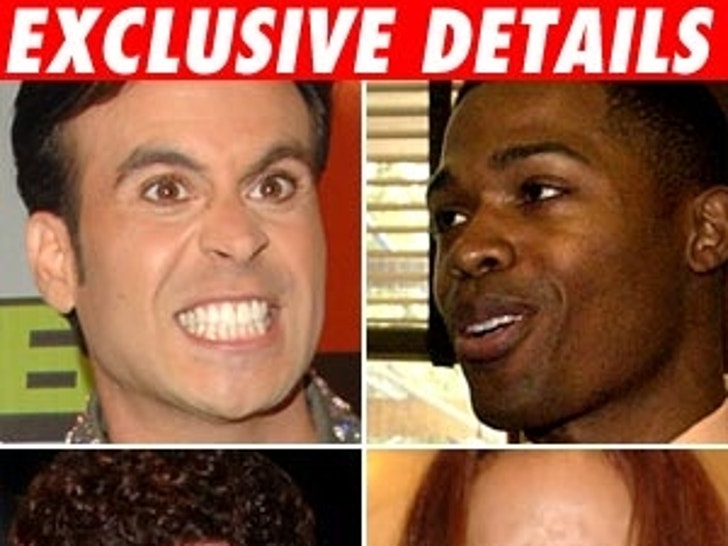 It's chaos on the set of VH1's hit show "Celebrity Fit Club," and TMZ has exclusive details on the multiple battles raging between its stars.

According to on-set sources, the first fight took place between medical/diet expert Dr. Ian and Ant, the show's host -- over a cigarette. We're told that during a break in filming, Dr. Ian exploded after Ant fired up a cancer stick in the doc's vicinity, and began shouting and threatening Ant with violence, forcing producers to immediately shut down production. We're told that after the two men were separated, egos were stroked, and both men got over the flare-up and production resumed.
Soon after, as first reported on PerezHilton.com, former child star-turned-porn-star Dustin Diamond allegedly threatened to "make a dildo of my c**k and f**k" former "American Idol" star Kimberly Locke with "it" during a heated on-set altercation. According to our sources, Locke, along with almost every member of the cast, including 80's pop star Tiffany, rap star Warren G and "Brady Bunch" star Maureen "Marcia" McCormick all stormed off the set. Only Ross the Intern stayed.
We're told that producers have exiled Dustin Diamond and he will no longer have any interaction with the cast. According to our source, the cast couldn't be happier with the Screeching halt.
Calls to VH1 have not been returned. A rep for Dustin has denied all allegations surrounding the actor.