Will Dannielynn Be a Billion-Dollar Baby?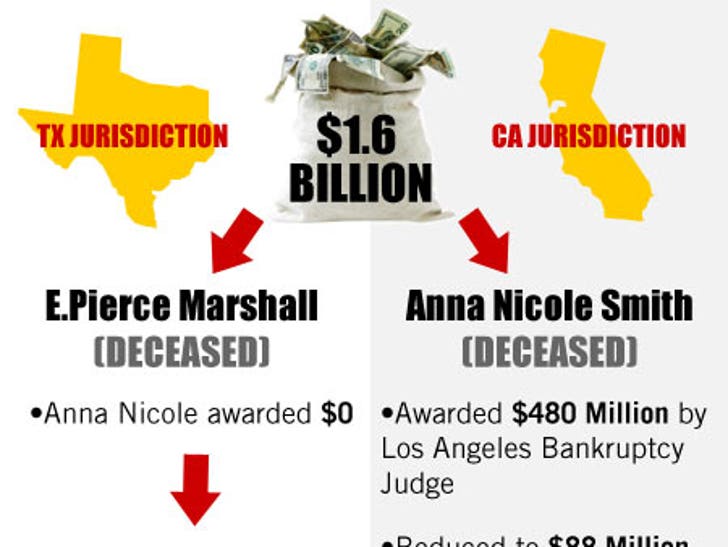 With her mother dead and the identity of her father still to be determined, the questions on everyone's lips about Dannielynn Marshall Stern are: Will she end up getting any of nearly half-billion dollars Anna Nicole was fighting for in the courts? And how much would she get?

Well-informed legal sources, including Smith's estate lawyer Kent Richland, tell TMZ that Dannielynn could be the heiress of up to $477 million of J. Howard Marshall's fortune, if her mother posthumously wins her Federal court battle. That's the simple answer. In the end, our sources tell us, where the case ends up being tried is all-important. Richland himself says that he's not certain whether California, Texas, or even the Bahamas will have the last word in deciding the case, and that the death of his client adds another layer of complexity to an already difficult case.
That's because two courts in different states have decided two different outcomes -- a judge in Texas ruled that Anna Nicole should get nothing, and a California judge then ruled that Smith should get $480 million (later reduced to $88 million). Then, last May, the U.S. Supreme Court sent the case back to Federal appeals court. Marshall family attorney Eric Brunstad says that there is currently no timetable for the next legal step.
The Supreme Court's decision merely continued Smith's fight for money, but did not award her any money. The reality is that the case could drag on for months and possibly years, and Richland could not predict any time horizon for the case. Lenard Leeds, a former attorney for Smith, predicted that the case will end up back at the U.S. Supreme Court for a final decision.
Richland says he's not spoken to Howard K. Stern since yesterday.