Britney's Chrome-Dome Cover-up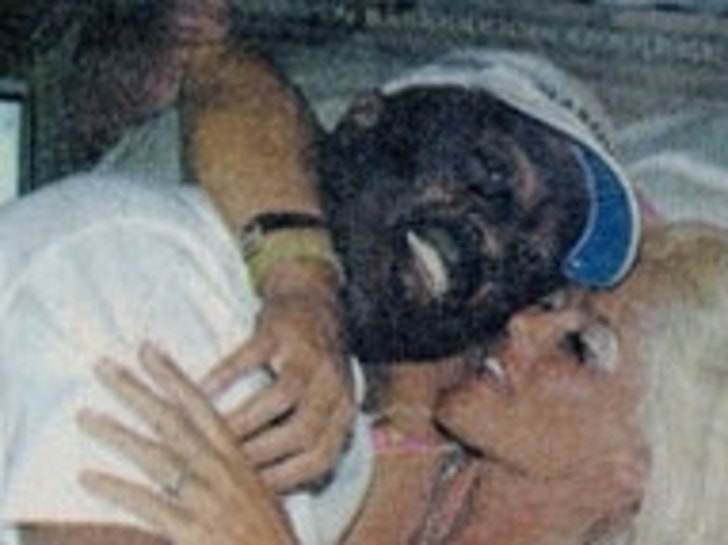 Britney Spears is already having a case of shaver's remorse, and was spotted yesterday hiding her newly-bald pate with a blonde wig and a cap.
In the latest episode in Shears-gate, cameras caught the pop-tart sporting a platinum blonde wig at The Roxy in West Hollywood last night. When one curious photog asked about Brit's old promise to "keep her brown hair," Spears shot back, "I lied."
Meanwhile, her aunt Wanda tells the New York Daily News that Britney's recent off-the-rails behavior might have something to do with the death of her aunt Sandra Bridges Covington, who died of cancer in late January. And the New York Post, citing an unnamed Las Vegas gossip site, says that on a recent trip to Vegas, Britney found that her hair was so badly damaged from harsh treatments that she was beginning to find bald spots. So Brit just finished the job herself.
Anna's Bahamian Minister Pal Resigns
Shane Gibson, the Bahamas' immigration minister who was photographed in some rather intimate poses with Anna Nicole Smith, was forced to resign yesterday after speculation loomed that he had given Smith preferential treatment in gaining residency.
Photos of Gibson and Smith in a fully-clothed but nonetheless cozy clinch were splashed on the front pages of Nassau newspapers last week. Gibson denied any sexual relationship and any wrongdoing, and called the speculation "vicious and wicked lies," but he still issued a public apology Sunday night for having "offended" the Bahamian people with his actions.
Brady and Bridget's Unexpected Love Child
Could there be a shotgun formation in star quarterback Tom Brady's future? Brady and actress Bridget Moynahan announced over the weekend that she's three months pregnant with his baby. Only problem is, he's with Brazilian supermodel Gisele Bundchen now. The actress' rep confirms to Usmagazine.com that Bridget is over three months pregnant and that "former boyfriend" Brady is the dad. Brady and Bundchen have been spotted cavortng in New York and elsewhere.
Party Favors: ScarJo is Playboy's Sexiest Celeb ... "Ghost Rider" Makes Astounding $44 Million ... Rihanna Mistaken for Shopgirl in New York
Yes, we get it: Scarlett Johansson is hot. Playboy magazine has just named her the Sexiest Celebrity, after being so named by Esquire magazine last year, and by Harvard as the Hasty Pudding woman of the year. The mag's editors called her "the apex of beauty and sensuality." ... Nicolas Cage's "Ghost Rider" came out of nowhere to rev up $44.5 million at the weekend box office to take the no. 1 spot and to claim the biggest opening of 2007. It will likely end up being the biggest President's Day weekend debut ever. ... Pop star Rihanna was mistaken by a manager at a Zara store in New York for a clerk, Ben Widdicombe of the Daily News reports. "There was this absolutely beautiful girl folding clothes in a corner and I was wondering, what the hell is she doing working here?" says a source, who then noticed her giant bodyguard.