The Ambiguously Gay Dudes ... Oh!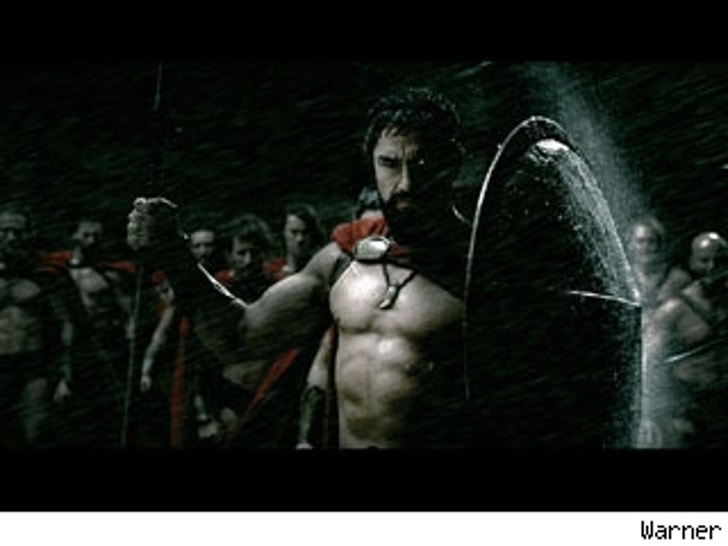 "'Some people have said to me, 'Your movie is homoerotic,' and some have said, 'Your movie's homophobic.' In my mind, the movie is neither. But I don't have a problem with people interpreting it the way they'd like to."

So "300" director Zack Snyder told EW recently, and his ambivalence about the film's sexual ambiguity has served him well: An astonishing $70 million opening for Snyder's adaptation of Frank Miller's graphic novel means people ignored the negative reviews and showed up for those rippling, shaven, oiled chests -- and the spears that plunged into them.
With a headline that blared, "Rivers of Blood, Oceans of Nair," the Seattle alternative paper The Stranger put it best, "By the end, I didn't know which I wanted more: a cigarette, or, like, a whole bottle of aspirin."
Aesthetics aside, what's interesting about "300" isn't the prurience or the CG violence, (as the Chicago Tribune's John Kass wrote, "War-nography is hard to define, but you know it when you see it.") but the reason that the studio used CG in the first place.
Again, EW: "It would be shot almost entirely on bluescreen soundstages with computer-generated backgrounds added later. CG would also be used to create geysers of spurting blood worthy of Jackson Pollock, the better to control the precise level of the gore if the MPAA's ratings board found it all too much."
For once, a studio is using CGI effects to its advantage. The result? Warner Bros. need not "beware of Greeks bearing gifts."