Britney to Paris: I Blame You!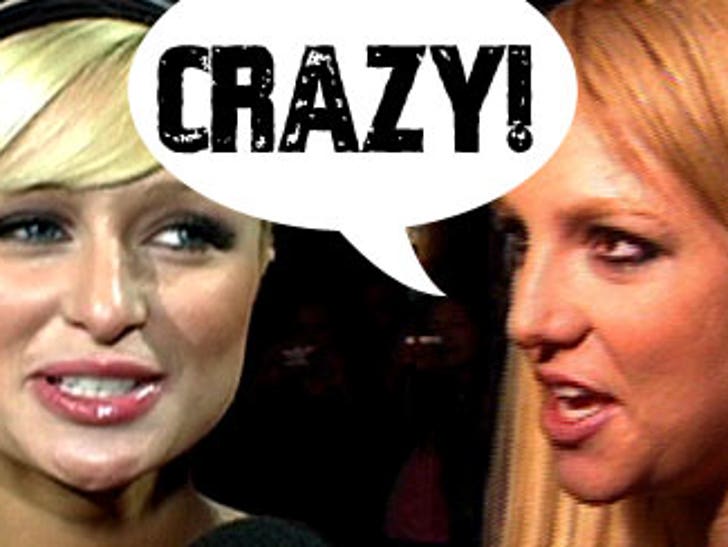 Britney Spears is blaming Paris Hilton for hurling her into the anti-panty, head-shaving downward spiral which landed her in rehab ... and now she wants someone to pay!

According to Page Six, Britney is enraged with her manager, Larry Rudolph, for introducing her to "nemesis" Hilton last November -- and reportedly gave him the axe for it last week. But as of this morning, TMZ could not confirm that Rudolph was actually fired ... yet.

As TMZ first reported, Paris thought of herself as a role model for Spears, and even claimed that Britney was "grateful to be under Paris' wing." But shortly after the alliance had been formed, the lovefest crashed hard and the two haven't partied together since.
Paris' rep, Eliot Mintz, fired back at the Page Six article, telling TMZ, "That's a matter between Britney, Larry and Leslie (Britney's old again, new again PR rep)."
Calls to Britney's reps were not immediately returned.
Anna Nicole's Diaries Don't Sell
Anna Nicole Smith's diaries are in the bargain bin after failing to sell over the weekend – and they can now be yours for $25,000 apiece. "We have a buy-it-now situation," said Doug Norwine of Heritage Auction Galleries of Dallas, to the AP. Two people had bid on the diaries, but pulled out when they got skittish about allegations that the diaries were stolen. This is no doubt very bad news to the nameless German businessman who paid more than $500,000 for the diaries several weeks ago.
Katie Holmes is finally in Louisiana to shoot her new movie – could she be sending messages to the world through her role? When asked why she likes her character in the upcoming "Mad Money," Holmes tells the Shreveport Times, "She's ... a little bit misunderstood ... She's a type of person who creates a happier environment than she's actually in. ... I like that about her. She's a free spirit." Speaking of being a free spirit, Holmes escaped the clutches of Tom to visit a local Target, says the Times, and "met some really great people."
Party Favors: Travolta -- I'm as Big as Elvis ... Andre Biffs Steffi ... "Idol's" Carrie Underwood Wins Big at CMTs
John Travolta has a serious case of the superego. He tells the Irish Independent (via MSNBC) that he's as famous as Elvis Presley or Marilyn Monroe, but that it's Scientology that has saved him from their tragic fates. According to the paper, he also enlisted former President Bill Clinton and Chancellor Helmut Kohl to fix a Scientology crisis in Germany. ... Andre Agassi gave wife Steffi Graf three stitches in the mouth – by accident. The tennis supercouple was playing in a fundraiser when Agassi smacked Graf in the mouth with his racket. "She's OK," says Agassi. "It was an unfortunate accident." ... Former "Idol" winner Carrie Underwood's "Before He Cheats" took home big prizes – video of the year, female video, best director -- at the CMT Music Awards last night.