Tori & Jason: The "90210" Reunion That Almost Was
Tori & Jason:
The "90210" Reunion
That Almost Was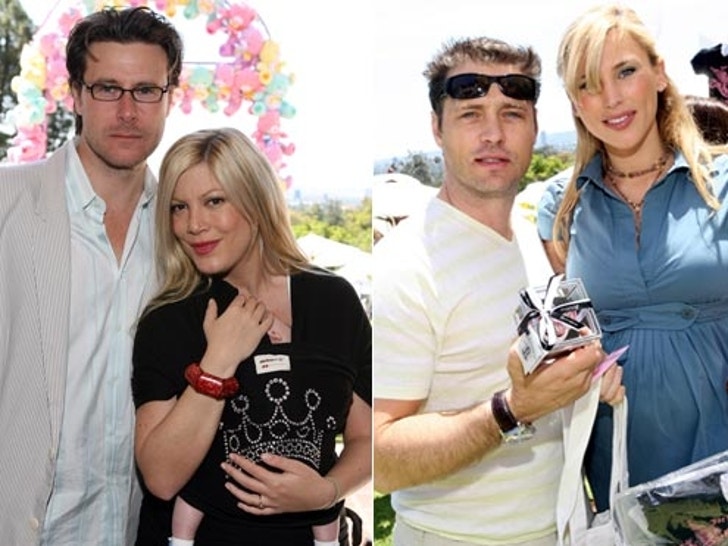 "90210" alums Tori Spelling and Jason Priestley just missed out on having a mini West Beverly High reunion at a Silver Spoon event in the Hills. All together now: Donna Martin graduates!
TMZ has learned Tori showed up at 9:30 AM with husband Dean McDermott, newborn son Liam, and of course, a nanny! You can take the girl out of the Spelling mansion ... but girlfriend can't shop with a screaming baby! StyleChic's Aly Scott says Tor cooed when she saw a Metrowrap blanket and immediately snugged her little heir in it. The group then left for Vegas -- in a limousine! Guess that bed and breakfast show is doing well!
TMZ spys say Jason arrived with his very pregnant wife, Naomi Lowde, and picked up a customized West Coast Wagon for their soon-to-be born baby. Jason & the Mrs. were overheard saying how if fellow "90210" vet Ian Ziering doesn't win "Dancing with the Stars," they're rooting for Apolo Ohno. A source tells TMZ, Jason and Naomi are amazed by the petite Olympian's well developed backside. Move over J.Lo, it's A.Oh!
Tori and Jason came out to help the silver spoon girls, queens of gifting and setting trends among celebs, launch their baby line "the silver spoon baby- I was born with one." For those of us not lucky enough to get invited to a celeb gifting event, the line is available in select stores or at jenniferkaufman.com.