Hilton Ordered Back to Jail!!!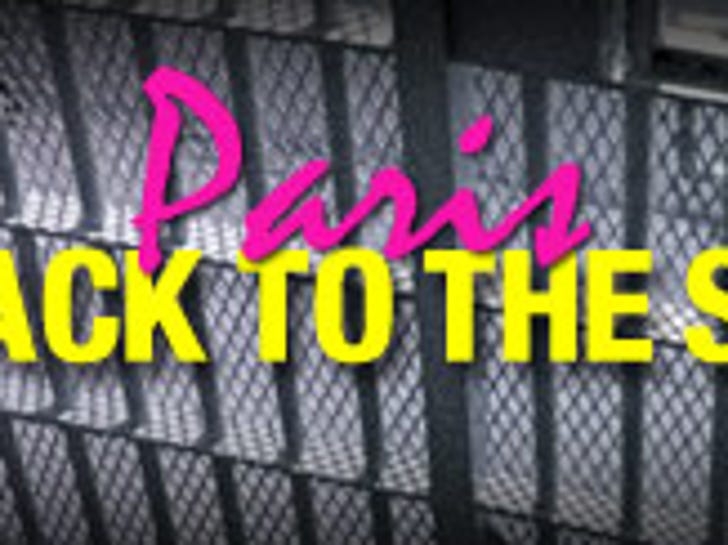 Paris Will Spend Weekend in Med Jail
Paris Hilton will probably spend the weekend in a medical ward at the jail facility where she surrendered Sunday night, referred to as Twin Towers.
We're told the plans will firm up within an hour. Hilton will stay there over the weekend, when her lawyer will file an appeal, called a writ of habeas corpus, which means, essentially, the body is being held illegally.
Paris Heads Back to the Big House
Paris Hilton was just ordered back to jail in Lynwood to serve out the remainder of her 45-day sentence. She'll get credit for 5 days already served.

Hilton left the courtroom in tears, screaming, "Mom, Mom, Mom, it's not right."

One witness said that Paris was "physically escorted" out of the courtroom by a female deputy.
Hilton's mother was later seen pacing the hallways, telling reporters, "I'm paralyzed right now." Paris' father Rick is still in the courtroom.
A Sheriff inside the courtroom tells TMZ that officers are taking Hilton straight from the courtroom to Lynwood. No timetable has been set on her departure.
TMZ has learned, Hilton's lawyer will appeal the judge's ruling. That appeal will be filed either late today or Monday.
Story developing -- refresh your browser!



Crazy Paparazzi Crush as Paris Hauled Off
Paris Hilton has just arrived at an L.A. courthouse in cuffs, and if things don't go her way, she could be spending the foreseeable future in jail.
Law enforcement sources tell TMZ the reason the hearing was delayed for two hours is because the Sheriff's Department refused to follow the judge's order to pick up Hilton at her West Hollywood home. We're told the Sheriff believes his department has exclusive authority to decide where Paris goes -- not the judge. After several hours, the deputies picked Hilton up and drove her off. The paparazzi crush was simply unbelievable.

Hilton was released early Thursday morning, after serving five days of a 23-day sentence. Law enforcement sources tell TMZ, Hilton was "reassigned" to home detention after her shrink visited her and told authorities in the Sheriff's Department that Hilton was in danger of having a nervous breakdown.
Yesterday, the Los Angeles City Attorney filed a motion asking the judge to return Hilton to jail and to hold the Sheriff's
Department in contempt of court for letting her out.

Tour buses made Hilton's home a must-see this morning, as a crush of media recorded everything from the ground and in the air.
As Hilton made her way to court, helicopters followed overhead in OJesque-style.
By the way, Hilton went to court looking like a rice farmer, wearing drab grey sweats!
TMZ will have a blow-by-blow of what happens in court, so c'mon back.