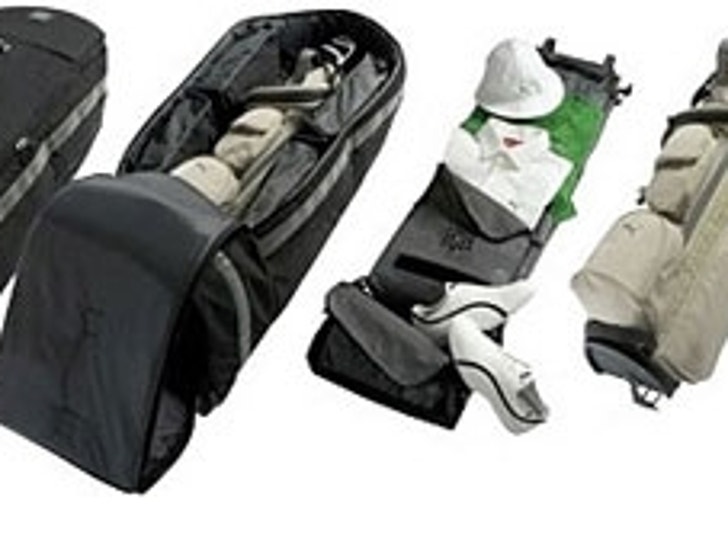 With Father's Day only a few shopping days away, it's gettin' down to the wire to get your dad a gift that doesn't suck.
Seriously, Dad's are sick of ties, bad cologne and socks. It's time to step-up the gift giving, and TMZ.com is here to help.
Replace Dad's worn out golf bag with a new Puma Travel golf bag. Dad can finally travel to his golf resort of choice without packing 15 bags. Just toss in the clubs, some clothes for the course and you're set. Who needs pesky suitcases?
Sure you could get your dad a TiVo, but for the ultimate in home theatre DVR capabilities you need to upgrade to the AlienWare Hangar18 HD entertainment center. With 2 terabytes of storage, 4 TV tuners, Bluetooth, WiFi and a built in 1000 watt amplifier, all you need to add is a TV and speakers. Imagine the look on his dad's face when he can record 4 different sporting events at once! It's home theatre nirvana.
Maybe dad's memory isn't what it used to be. You could stock up on gingko biloba or you can hook dad up with Big Brain Academy: Wii Degree for the Nintendo Wii. Up to 8 players can compete in games designed to stimulate your brain and measure its proficiency in five categories: Identify, Memorize, Analyze, Compute and Visualize.
What day at the beach would be complete without something to take the edge off? Reef has introduced a series of sandals that'll replace that hip flask of during seaside adventures. The Reef Dram Sandals will finally bring together the world of concealed drinking and beachgoing in a way that is sure to bring a tear to your dad's red eye.
Baseball season is upon us, and if your father is a hard-core fan he'll love a Sony PlayStation 3 with a copy of MLB 07 The Show. Considered one of the most authentic baseball simulations available, The Show enables players to have an unprecedented level of control while pitching with the all-new Pitch Command System. With online play and the ability to check real-time MLB tickers, MLB 07 The Show is sure to keep even the most hard-core baseball fanatic busy during the impending off season.
The Swiss are a wonderful people. From their delicious chocolates and cheeses to their super-sneaky banking system, the Swiss have created some sweet stuff for the benefit of mankind. Their crowning achievement is the Swiss Army knife. There was a time when all a dad needed was a knife with the ability to chop down a tree and open a can of beans. Now the high tech world has changed the game, and the ever evolving knife has changed with it. Now you can get the knife with a USB jump drive with up to 1 GIG of capacity and red LED light to help Pop find his way when the power goes out at the office. He still gets a knife and scissors just in case of interoffice bear attacks.