Kim: My Dad's Big Fat Rocker Wedding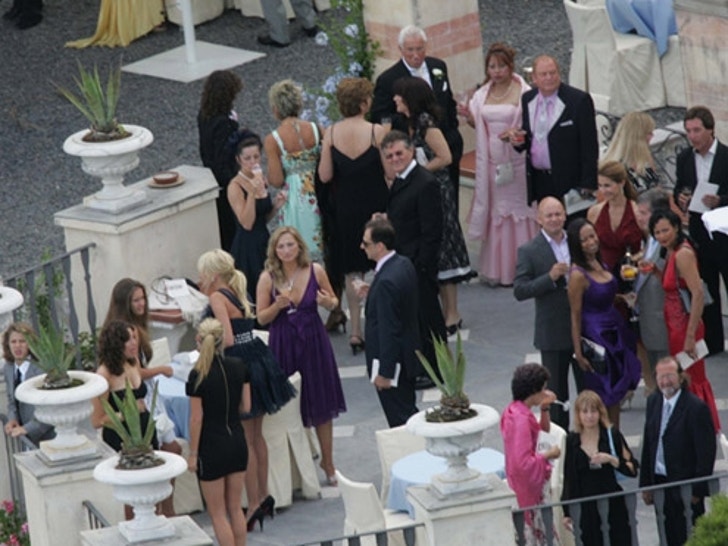 So this weekend I jetted off to beautiful Portofino, Italy for my dad's wedding. We've been going there for years, so the place is filled with great memories.

I got there a few days before the wedding so I could enjoy the great weather and spend time with my family. We rode around in a banana boat and went jet skiing on the Mediterranean, which was a lot of fun -- especially when my friend flew off the Jet Ski! I didn't notice he had fallen off and had to turn the Jet Ski around to pick up my drowning friend. Good thing he has a great sense of humor.
Later that night, we celebrated my little sister's 20th birthday on a boat that my dad and Penny decorated in a 60s theme with colorful hats and boas. Very "Groove Is in the Heart!" It was a blast!
The next day it rained, so we hung out in the hotel and then I went into town and hit some of Portofino's adorable shops.
Saturday was the big day. The ceremony was beautiful and everything went off without a hitch. Do I hear wedding bells in my near future? Ha ha! It was like a dream wedding -- well, minus the three helicopters flying above the mountain we were on! It was great to be with my cousins, aunts, uncles and all of Penny's family. We all partied until 2 AM and then ten of us (including dad and Penny) crammed into a little Mini that had a "Just Married" sign on it. It's a family Portofino tradition to kidnap a Mini and take it for a spin.
Now I'm headed back to London to celebrate my sister's birthday again, this time at The Boogaloo. I'll give you all the details on that next time.