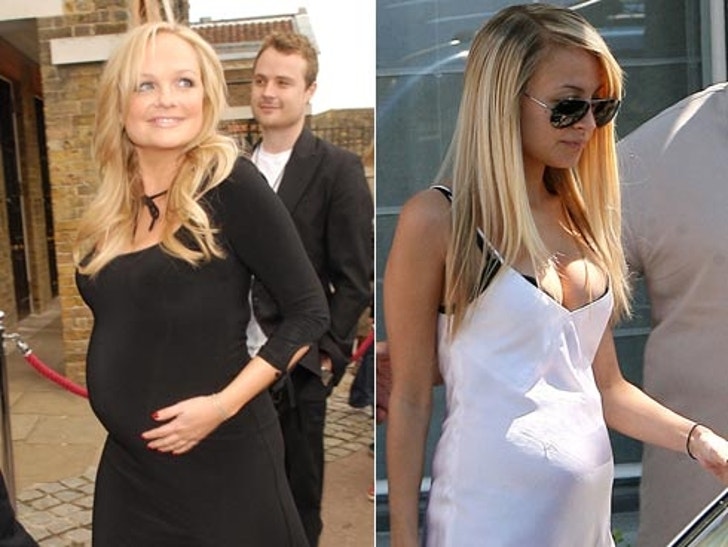 Baby Spice Emma Bunton and longtime boyfriend Jade Jones welcomed a healthy baby boy last night! The Spicetot made his world debut at 11:12 AM at London's Portland hospital. They named him Beau -- not Patio, or Watermelon, or even Bidet. Just Beau. Thank Jebus!

Emma's not the only celeb making baby news. Stick-figured Nicole Richie is sporting some major bumpage. The former DUI-er and soon-to-be prisoner was spotted yesterday in L.A. wearing her usual nightgown, and looking surprisingly healthy. From the newly bosomy look of the petite starlet, motherhood already agrees with her.
Billy Ray Cyrus -- Crappy Neighbor?
Country music star Billy Ray Cyrus' neighbors are stinkin' mad over having to deal with all his crap -- literally!

Sources in Cyrus' Toluca Lake, Calif. neighborhood tell TMZ that ever since the 46-year-old moved into his multi-million dollar home last year, he's been letting his Malamute hound take huge, giant dumps -- on their lawns! We're told this is a continuing problem, since "Hannah Montana's" dad walks his dog every night. Achy breaky fart!
On a more positive note, Billy's music is no longer the sh**tiest thing about him.
We called Cyrus' rep to give us the poop, but have yet to get a call back.
Brad Pitt's Brush With the Law
Brad Pitt had a close call yesterday with the American judicial system. The hunky father showed up yesterday to an L.A. court for jury duty -- which he had postponed several times to due work and travels. Pitt took a red eye from Chicago to L.A. to perform his civic duty.
Brad, who wore a white t-shirt, dark jeans, a cool black cap, and get this, a juror badge -- yeah, he looks good in that too -- was placed in a private room until he went to the jury assembly room for orientation. When the jury broke for lunch, Pitt returned to his private quarters where he was delivered a bite from Subway. Eat fresh,
Eventually Brad and the other jurors were released after the defendant in the DUI case plead "no contest." Brad is done with his jury duty ... and back to diaper duty!
The Mayor and Mirthala Step Out
L.A. Mayor Antonio Villaraigosa, 54, and his newsbabe vixen, Mirthala Salinas, 37, were spotted by a TMZ spy while shoe shopping at San Fernando Valley's Fashion Square Mall -- girlfriend needs some new zapatos!
Senorita Salinas was suspended from her TV news duties at Telemundo after a three-week investigation, because she was reporting on the Mayor's separation from Corina (his wife of 20 years) -- while reportedly being the cause of it! Ay Dios mio!
Our eyewitness spy reports that the Mayor was happy to pose for a picture, but Ms. Salinas, in jeans and heels, attempted to avoid being photographed. The Mayor then wanted to see the "photo" being taken, and literally took the cell phone from our spy to flip through the photos -- photo approval anyone?! Noticias a las 11!