Baby Mama To NFL Star: Keep Paris & Brit Away!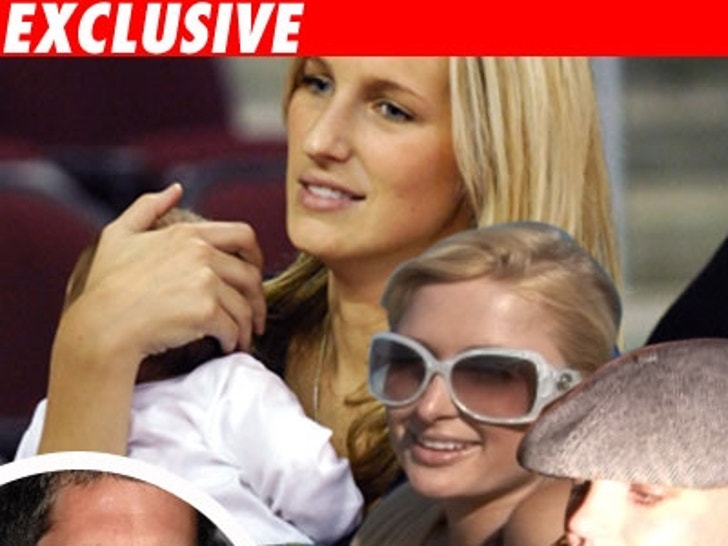 TMZ has learned Arizona Cardinal's QB Matt Leinart has settled his custody dispute with Brynn Cameron, but it's still war!

Sources say under the terms of the confidential agreement, the former couple will share joint legal and physical custody. Brynn will have primary custody, but Matt will have substantial contact with his 10-month-old son, Cole. We're told under the temporary agreement, which lasts through football season, Matt will fly to L.A. every Monday and spend 24 hours with Cole. On alternate weekends, Brynn will fly with Cole to Arizona the night before Matt's games -- Matt will spend the evening before the game and the day of with his son.
In the courtroom hallway today, a TMZ staffer heard Brynn say, "Britney and Paris aren't allowed to be around the baby!" We're told that's not part of the custody settlement. As far as we know, Leinart has had no recent contact with either woman, but we do know he sucked face with both of them in the past.
Several people familiar with the former couple say Brynn has been jealous and upset because Matt refused to marry her. Brynn's peeps say that's ridiculous. For her part, Brynn has questioned Matt's commitment to his son. Matt is the one who petitioned for more custody.
Under the settlement, while one parent has the child, the other can't visit Cole uninvited. We're told the first time Matt had the baby overnight, Brynn stayed outside his door the entire evening.

Under the deal, Brynn, a basketball player for USC, can travel with Cole during her season. As for moolah, the temporary order locks the amount of child support she receives at $12,500 a month.
Both Brynn's lawyer, Ron Rale and Matt's attorney, Laura Wasser refused comment.