Ellen's Doggone Nightmare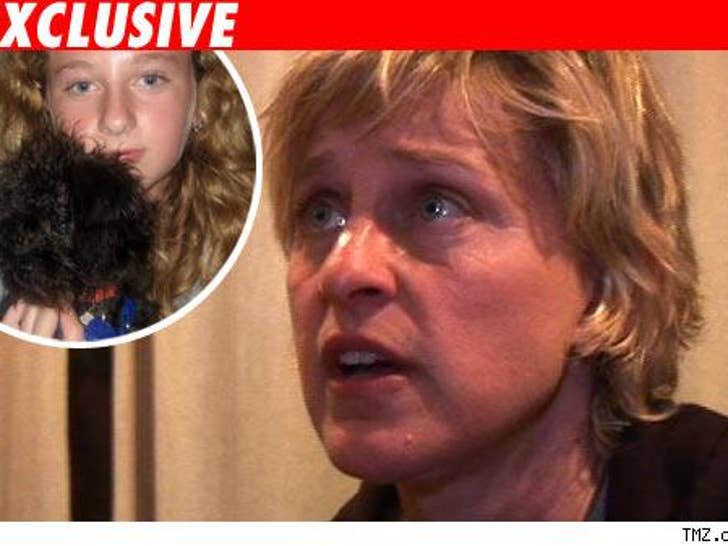 Talk show queen Ellen DeGeneres is caught in the middle of a doggy tug of war that has left an innocent girl in tears.

Ellen and her girlfriend, Portia de Rossi, adopted Iggy (a Brussels Griffon mix) from Mutts and Moms, a dog adoption agency. But things didn't work out as Ellen planned -- her cats didn't get along with Iggy -- so she gave the pooch to her hairdresser, who has two kids, including 12-year-old Ruby.
Last night, a rep from the agency came to the hairdresser's home, claiming Ellen violated the contract by not informing the agency of the hand-off. The rep demanded to take the dog away. Ellen' s position -- yeah, she should have notified the agency, but she found a loving home and isn't that what counts? The agency rep stuck to her guns and removed the dog with cops present. Ruby is heartbroken; reduced to tears.
Ellen says, "I kept saying, 'If you want to be mad at me, be mad at me, but don't take it out on the family. Don't take it out on the dog.'"
TMZ has video of the confrontation at the hairdresser's home, as well as interviews with Ellen, Portia and little Ruby. You can watch the full story tonight on TMZ TV.
The Britney Spears Coffee and Gas Roundup
Ding ding dang! If you said gas stations and Starbucks with her paparazzi entourage in tow -- you've won!
TMZ caught Spears in Malibu on Friday at her favorite coffee shop, where a chef from a Country Mart restaurant shouted, "Run 'em all over!" to Brit as she rolled up. She then hightailed it to a gas station, where she decided to read "The Chronicles of Narnia" as a photog pumped her gas. I's edumacated, y'all!
Brit also stopped into a salon and was blinded by flashes on her way out -- once again shouting, "So over it!" ... but later asking for someone's hand to help guide her to the car. She even proved she still can sing, giving an operatic note before driving off.
Brit's Saturday was no less paparazzi-filled, with the popwreck sending a photog into Virgin Records in Hollywood to pick up a Justin Timberlake CD while she waited in her car.
All this and more in today's "Gimme More CS Lewis" edition of Spears Catcher.
Orlando the Hero? Puh-lease!
Orlando Bloom's reps are spinning his bad behavior following a serious car accident in the most ridiculous way we've seen in a long time.
Bloom was behind the wheel early Friday morning when his vehicle struck a parked Porsche, seriously injuring one of his passengers. Bloom's reaction -- he walked away from the car and his badly hurt passenger. Video from X17 tells the story -- paparazzi have to repeatedly tell Bloom that walking away constitutes hit and run. When it finally sinks in, Bloom walks back and pretends to be a hero, comforting the woman.
A statement released by Bloom's people on Friday said the star was "grateful that no one was seriously injured." We're no medical experts, but we'd call the FRACTURED NECK sustained by his friend, Cher Coulter, pretty serious.
And the cops are saying that Bloom was not drunk or under the influence of drugs at the time of the accident -- but they didn't conduct a blood alcohol test at the scene and none was ever given because, they say, because Orlando showed no signs of intoxication.
Was Orlando drinking? Watch him go off on a guy outside a club, minutes before the crash, and then decide for yourself.
T.I. Busted for Allegedly Buying Weapons
TMZ has obtained the affidavit and search warrant issued by The Bureau of Alcohol, Tobacco, Firearms and Explosives (ATF) after T.I. allegedly had his bodyguard buy illegal machine guns and silencers for him.
Since T.I. is a convicted felon, he can't legally buy firearms, so, according to the ATF, he used his bodyguard to purchase them for him and members of his entourage. According to the affidavit, the bodyguard admitted to buying nine firearms for T.I. (real name Clifford Harris) and approximately 17 other firearms for people other than Harris.
He was charged with two felonies -- possession of three unregistered machine guns and two silencers, and possession of firearms by a convicted felon. A source told MediaTakeOut.com that "[The bodyguard] asked T.I. for an advance on his [pay] and T.I. gave it to him. ...Whatever he spent money on -- whether it be guns, drugs, or formula for his children -- T.I. had nothing to do with it."
TMZ spoke with Chevrolet this morning, which features the rapper in one of its biggest ad campaigns. When asked whether they planned to drop him as a spokesman, a rep for the automaker only said they are "reviewing the situation."
If Chevy does indeed drop him, there's always Smith & Wesson!
UPDATE: This afternoon, the ATF showcased the guns seized in the case (pictured below).