Plenty o' Juice -- O.J. Raked in $1.2 Mil from 2003-05!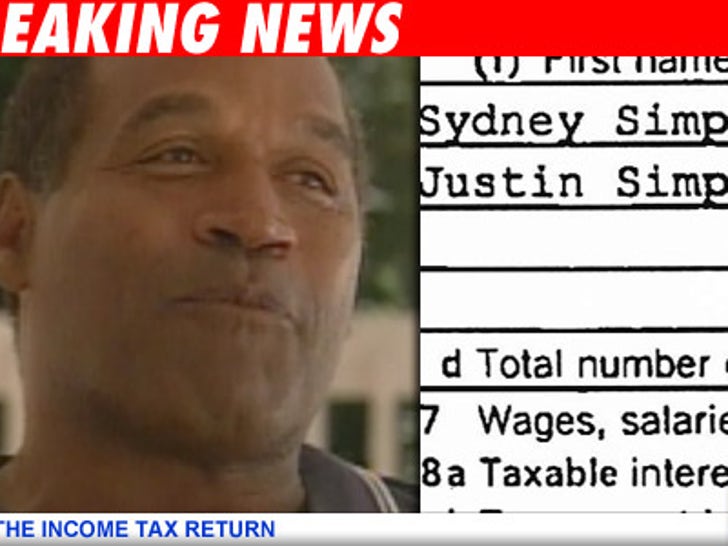 Apparently, being found liable for the deaths of two people and making millions aren't mutually exclusive: O.J. Simpson made nearly $400,000 in income from his NFL pensions every year from 2003 to 2005, for a total of $1.2 million, and even earned $50,000 from what he calls "appearances," according to tax returns released to the father of Simpson victim Ron Goldman -- and obtained by TMZ.

Fred Goldman's lawyer, David Cook, tells TMZ that what he's really interested in is the $772,090 in "personal property" that O.J. claims on his 2005 return, because the pensions are exempt from the $33.5 million judgment that Fred won in 1997 -- and which they've been trying to collect ever since. Cook says he's not sure what the "personal property" consists of, but says he'll be going after it.
"He's a very wealthy man sitting on a lot of assets," says Cook of Simpson. "Meanwhile, Mr. Goldman is a 67-year-old working man." Cook says that they're attempting to seize Simpson's Florida house, and will investigate the $50,000 in gross income that Simpson claimed in 2003 and 2004.
To put O.J.'s yearly pension into perspective, Simpson made a reported $733,000 in 1978, when he was the highest-paid player in the NFL, nearly doubling Joe Namath's pay.
Simpson's lawyer didn't immediately return calls for comment. Just last week, the State of California Franchise Tax Board revealed that O.J. owes $1.4 million in back taxes.