Ding Dang! It's Britney's Day in Court!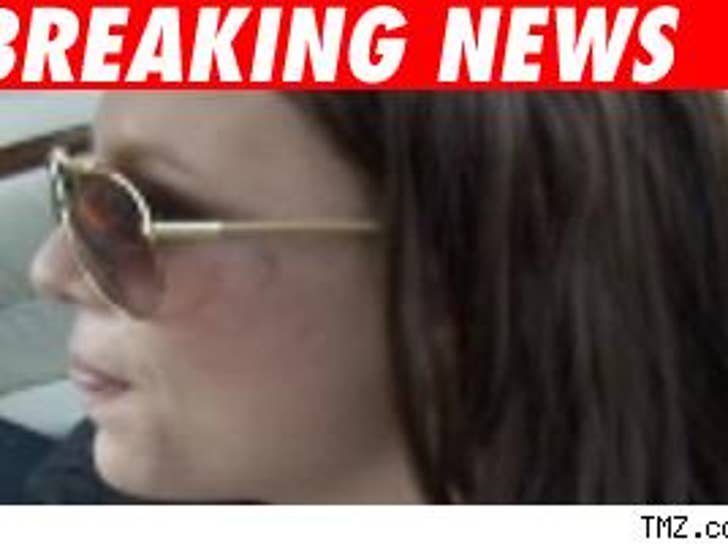 Brit Has Left the Courtroom -- For a Moment
TMZ just watched as Britney Spears, with her hair down, walked out of her custody hearing, escorted by a handful of Sheriff's deputies and her lawyer. As she walked out, she looked agitated and upset.
Then, two minutes later, she walked back into the courtroom, with her hair now on top of her head. Hair and makeup!
One note, her lips are ENORMOUS. You cannot make out the shape of her upper lip.
Britney and K-Fed's Custody Hearing Underway
Today's closed hearing has begun. All media -- including TMZ -- have been kicked out of the courtroom. The nerve!
Before that happened, our observers noted that as K-Fed walked into the room, his eyes were on Britney the entire time. She, however, never looked at him.
A lawyer for the California Department of Children and Family Services is present as well.
Both Brit and Fed-Ex were sworn in by the court clerk.
One thing -- Britney's nails are bitten down and her red polish is extremely chipped. Girl ... get a mani!
She was wearing a dark, short skirt, white purse and her lucky cowgirl boots!
K-Fed has arrived as well. He's wearing a suit and sunglasses. Sharp dressed man!
The hearing, in front of Commissioner Scott Gordon,has begun.
TMZ is outside the courtroom and just watched Brit go through the metal detector outside the courtroom. On the conveyor belt, Britney placed a small individual container of what appears to be applesauce or Jell-O. A girl's gotta eat!

Custody is on the line at today's showdown, scheduled to begin at 4:30 PM EDT, 1:30 PM PDT. Britney is expected to arrive at the loading dock, where she will be escorted inside by Sheriff's deputies. We're told K-Fed will arrive at another entrance.
Sources tell us Britney's lawyers will ask L.A. County Commissioner Scott Gordon to restore 50/50 physical custody. The judge stripped Spears of custody a few weeks back, giving her only monitored daytime visits with her two kids and one overnight a week.
TMZ sources say during Brit's last appearance, she was incredibly rude and condescending to the Commissioner. And Brit has a new problem: The parenting coach has submitted a two-and-one half page report which criticizes Spears. The coach says Brit ignored her and often ignored the kids.
This morning K-Fed's lawyer, Mark Vincent Kaplan, argued that he should be allowed to videotape Brit's deposition, because, just like during the last court appearance, Brit's words sounded fine but her tone dripped with sarcasm. The judge denied the request for a video, but Spears must sit for a depo.
And then there's this -- the Commish seemed a bit upset that TMZ found out what was in the parenting coach's report. He said, "I am deeply impressed by the investigative work of the media, although I think it's a little stretch of their talent." You're makin' us blush.
TMZ is all over this story! Stay tuned!