Father Crazazy to Conan -- I'm Your Most Dangerous Fan!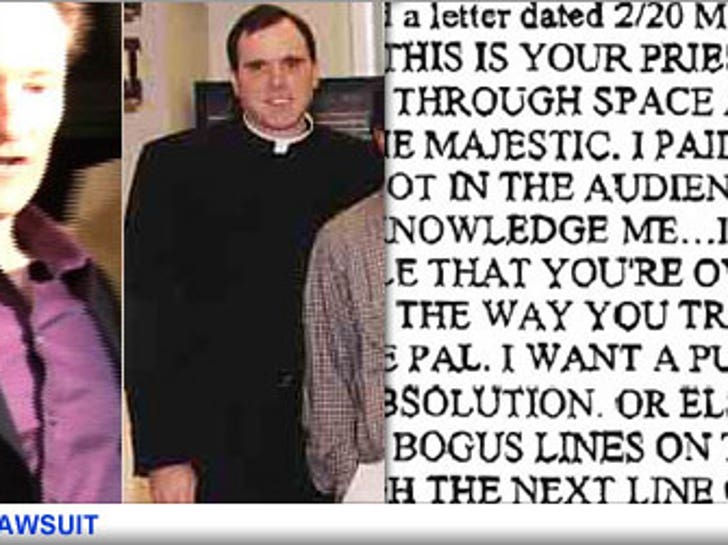 The creepy Catholic priest accused of harassing Conan O'Brien called himself "a stalker of a very different order" -- and judging from the seriously sinister evidence, that's the God's honest truth!

TMZ has obtained the disturbing series of letters cited in Father David Ajemian's arrest record, in which the collared priest says he's been "tracking" Conan even from when they were in college at Harvard.
Calling himself "Padre," and writing on his church's letterhead, Ajemian hinted in letters from earlier this year that he might shoot Conan at his Manhattan high-rise and kidnap him like Robert DeNiro's character does to Jerry Lewis in "The King of Comedy." What's more, he demands "a public confession" or else "a spot on [Conan's] couch." Christ!
We're told that Ajemian even contacted the talk show host's parents, who live not far from where Ajemian went to high school in Massachusetts. The horrifying holy man also claims to have stalked John McEnroe, and even tells Conan where he's going to spy on Johnny Mac at a tennis tournament in Boston. Ajemian claims that McEnroe "assaulted" him in the seventh grade "when I wouldn't give up my seat to him." McEnroe's agent didn't return a call for comment.
Finally, at the time of his arrest late last week, Ajemian is alleged to have said, "I wanted to wake Conan up. I wanted to be famous."