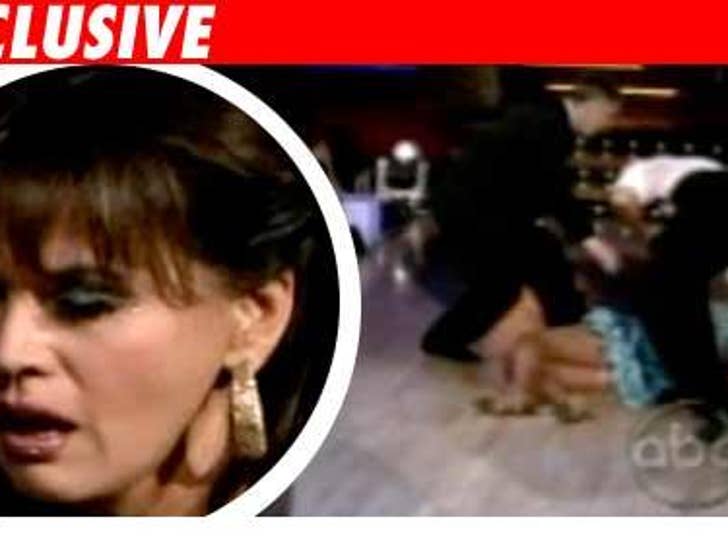 Sources on the set of "Dancing With the Stars" tell TMZ that Marie Osmond's fainting spell was scripted -- to the point where she had a writer just off camera feeding her lines when she stood up!

Our moles say Marie has a writer on set at all times, prompting her with witty conversation. One on-set source says he was in position when Marie went down -- and didn't miss a beat.

And get this -- Marie, we're told, is seriously on the hunt for a "successful guy." We're told she's asking some highfalutin people if they know someone who's available. Marie is divorcing hubby number two.
Marie's rep tells us that reports of a writer on set are "absolutely false." "There is no writer on set feeding her lines," she says, "Her manager is there and we (her publicists) are there but no one is feeding her lines." As for a fake faint? Her rep says that's "ridiculous. Why would anyone fake fainting on a live TV show? That show happened during the wildfires and Marie has allergies, there was smoke in the air which was extremely toxic. The trailers for the show are outside the stage and she was breathing the air. It's happened before." And lastly, the rep says Marie is NOT on the prowl. "She's going through a divorce," we're told, "She's not looking to meet someone now – she wants to spend time with her kids. Dating is the last thing on her mind."
Jingle Dang, Brit Gets Kids on Xmas!
Lawyers for Britney and K-Daddy have worked out an arrangement for who gets the kids for the Xmas holidays.
We've learned, under the deal hammered out by Fed's lawyer, Mark Vincent Kaplan, and Brit's disso-cutie, Anne Kiley -- Spears will open presents with the kids on Christmas day, and eat whatever best accompanies a Fanta. It's only fair, since K-Fed got the kids for Thanksgiving dinner.
With a total of 13 rolls in one minute, Brandon rolled his way into the next Guinness Book of World Records, becoming the first Chippendale to break a record. These boys are usually more acquainted with breaking hearts.
Pinkberry Guys Snap-To for LiLo
A simple trip to Pinkberry turned into chaos in West Hollywood yesterday -- so much so that two staffers took it upon themselves to escort Lindsay to car. These guys put the "pink" in Pinkberry!
After shutting down the store just to serve her, the two overzealous employees waded through paps to help Lindz back to her ride. One can be heard yelling, "Don't snatch!" while the other screamed out, "I'll f**k one of you up!"
Now that's good customer service!
Kim K. Ripped Off! $50,000 in Bling Jacked at JFK
Kim Kardashian had diamonds, jewelry and other items allegedly stolen out of her luggage at JFK airport as she traveled from New York to Las Vegas. Bum-mer!

TMZ has learned that The Tush and sister Kourtney walked into a terminal at JFK and were approached by fans and paparazzi, including several Delta employees. A source close to Kim
tells TMZ that when several Delta employees asked for autographs and photos with her, items were somehow lifted from her bags. The items include $50,000 worth of diamond jewelry, a Cartier watch, and Kim's laptop and digital camera -- contents unknown!
The airline offered only baggage information claim tickets, which have a number and name written in black marker. Kim's reps are looking into the possibility that she was set up by employees working for the airline.
Delta told us they were "investigating Ms. Kardashian's claim regarding a loss of valuables from her baggage."