Suit: Tom Hanks' Wife Rita Flips Out on the Stand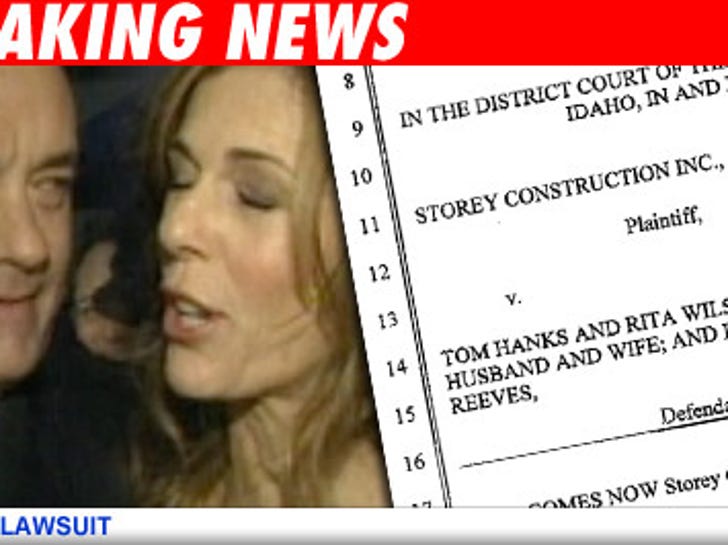 Usually one of the nicest gals in Hollywood, Tom Hanks' wife, actress/producer Rita Wilson allegedly flipped out on the stand at an arbitration hearing, after they allegedly refused to pay an Idaho contractor. Now that same contractor claims the A-list couple is out to get them.

According to the lawsuit, filed in a Blaine County, Id. District Court, the couple hired Storey Construction in 2001 to build a luxe house for them in Sun Valley. In July 2002, the home was finished and Hanks and Wilson moved in. In the suit, Storey alleges they were not paid for the work they did. The contractor claims that after repeated requests to be paid, they were forced to take out a lien on the home, and took Hanks and his wife to arbitration in 2003.
That's where it gets interesting.
At the arbitration, Hanks and Wilson filed a counter-claim, alleging that the work was shoddy and demanded $800,000 in damages. Then, at the arbitration hearing, the documents describe what Storey calls "Rita Wilson's bizarre conduct." She "leaped from the witness stand," the lawsuit states, "and started screaming hysterically. Rita Wilson then stormed out of the hearing room." The lawsuit states that after the arbitration, Wilson and Hanks were denied their counter claim, and Storey was awarded close to 100 percent of the total amount sought in the arbitration.
This suit says Storey construction was paid in full in 2004 and had no contact with Hanks and Wilson, until suddenly they received a demand for arbitration from the couple in November of this year, claiming Storey owed them $2.5 million in damages because the construction was bad.
Storey says this demand is "motivated by revenge." The suit asks a judge to award Storey damages, and to deny the couple's request for another round of arbitration.
Calls to reps for Tom and Rita were not immediately returned.