Brit: I Don't Need No EPT, Y'all!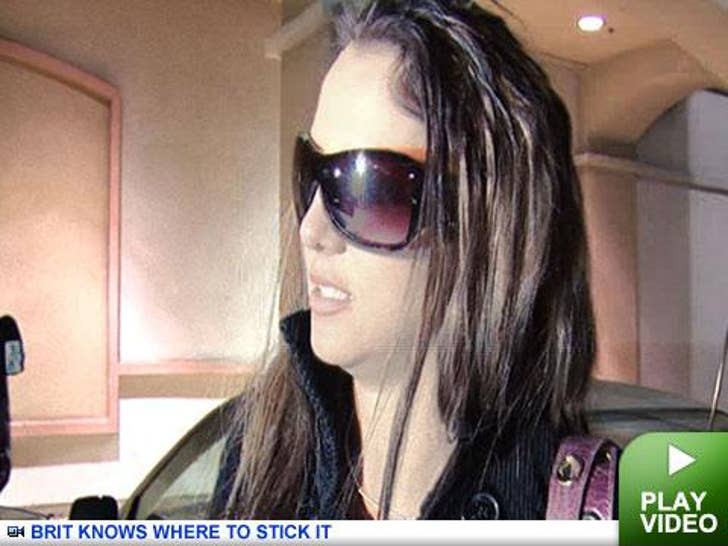 Cancel the national emergency -- Britney Spears is not pregnant. Two is enough!

TMZ caught Britney out at Ralph's grocery store last night where she told us that pregnancy test she was holding in photos seen yesterday wasn't for her -- but for "a friend." Do her other personalities count as friends?
Later on, Brit went to the trendy clothing shop Kitson -- at 1:30 AM! She had the owner of the store, Fraser Ross, open it up just for her. She walked in wearing a short red dress, but walked out with a dress shirt and tie thrown on top.

But the ripped stockings were a nice touch.
Martha's Dishes Made My Kids Sick!
A Pennsylvania couple is suing Martha Stewart Living and K-Mart, claiming the domestic diva's "Everyday" dinnerware -- with the lovely name "Flowers and Buds Border" -- contains lead and is responsible for poisoning their children. Get the lead out!

In the lawsuit, filed on behalf of their two kids Michael and Matthew, Sandra and Raymond Dombroski allege the boys were poisoned by lead in the dinnerware, which caused the boys to suffer "mental, emotional and cognitive impairment, learning disability" as well as speech problems and physical impairment and a host of other problems. That's not a good thing!
The Dombroskis say that the lead problem is a result of "negligent, reckless, intentional and outrageous conduct of MSLO..." (that's Martha Stewart Living Omnimedia), and they've served up a heaping lawsuit asking for compensatory and punitive damages.
A spokesperson for MSLO told TMZ "We take consumer product safety very seriously. We do not comment on pending litigation."
Chef to Dems -- You Do Chicken Wrong!
Tom to Jerry -- Suri's Real and She's Spectacular