Mary Kate On Tape After Heath Dies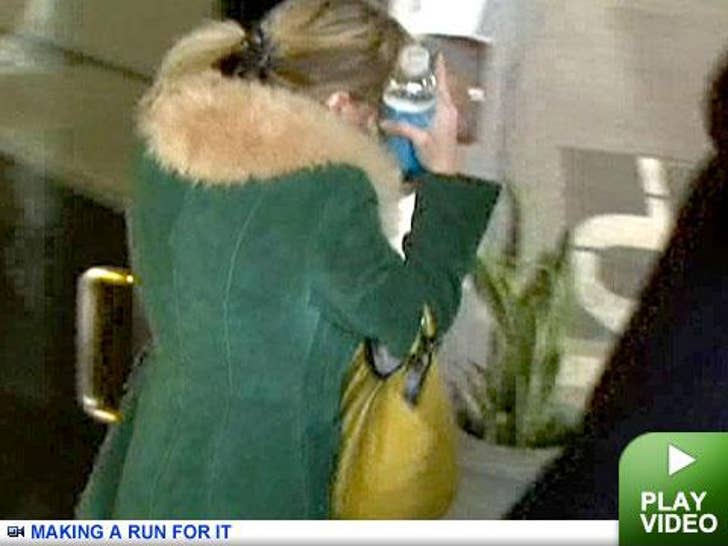 A clearly upset Mary-Kate Olsen was hurrying out of an office in Beverly Hills -- around the time she allegedly received a panicked phone call from Heath Ledger's masseuse.

Olsen hid behind a friend as she quickly made her way to her car. Meanwhile, police sources tell TMZ reports that cops want to grill Mary Kate are completely bogus. The NYPD has no intention of interviewing her. As of now, sources say it looks like Heath's heart stopped after combining two prescription drugs. We're told it looks like his death was accidental. We should know more next week.
J.Lo, It's Xenu -- We're Ready for Your Children
Jennifer Lopez is due to push out her twins any day now, so TMZ was wondering -- will Jenny from the Block keep quiet during the birth?

And by quiet we mean silent, as in silent birth. Here's the deal. Scientologists insist on absolute silence in the delivery room -- no talking, no shouting and definitely no questionable singing. And while Jennifer isn't a Xenuite, her BFF Leah Remini (right) is. In fact, Leah was one of the first celebs to see Suri after Katie Holmes' silent birth.
Will Leah convince J.Lo to shut the **** up? Even L. Ron couldn't seal that deal.
TMZ e-mailed J.Lo's rep for comment, but there's no response yet. Xenu was unavailable for comment.
Ultimate Warrior: Hulk Should Do Himself In
Former face-painting wrestling superstar and current homophobe Ultimate Warrior is using Heath Ledger's death as an opportunity to take serious shots at Heath, gays and his former rival, Hulk Hogan.

In a post on his blog titled "dead long before 28," the idiot Warrior refers to Heath as "Leather Hedger," and facetiously praises the late actor's parenting skills by saying he "did what it took to kill himself," adding, "His kid is without a father, yes, but the negative influence is now removed and his own child has the chance for a full recovery."
Warrior also refers to "Brokeback Mountain" as "Bendover Brokeback" and mockingly praises Heath's courage for taking the role. All this from a man who became famous for oiling himself up and running around in man-panties and teased hair!
But the bashing wasn't over -- Warrior then went after Hulk Hogan's fathering skills, saying, "He insists on sticking around ... ruining, and profiting off of, the parentally mismanaged lives of his own children."
Hard Rock Royalty: Who Are the Lucky Seven?
Everybody knows that deep-pocketed people get the most perks in Las Vegas -- Hard Rock Hotel and Casino has a "Rock Royalty Card" for their favorite few. You'll never guess which seven celebs have been knighted in Sin City fashion!

The perks (at least the ones they'll tell us about) include transport on the Hard Rock private jet, access to the Bowling Alley Penthouse Suite and other celebrity suites, full access to club Body English and the Joint concert venue -- plus VIP pool treatment. There are only fifty of these cards in the universe!
Don't even think about it.
You'll Never Guess Who the Hell This Is!
Before turning herself into a sexy vamp, this blonde, fresh-faced teenager was just another California high school senior in 1990. Guess who she transformed into?!

Heidi Gets Judge All Hot and Really Bothered
Heidi Montag is getting one guy in deep doo-doo, and it's not Spencer.
During court proceedings in Rowan County, N.C., Judge Kevin Eddinger caught lawyer Todd Paris checking out a Maxim magazine with the topless Heidi on its cover. The judge was so steamed about it, he threw the book (not the mag) at the attorney. According to the Salisbury Post, the judge fined Todd $300, gave him a 15-day suspended jail sentence and put him on unsupervised probation. Who knew Heidi could cause such a stir?
The judge showed the cover to the courtroom, and no surprise -- the crowd erupted in laughter.
Valerie Harper from "Rhoda": 'Memba Her?!
Valerie Harper is famous for playing Rhoda Morganstern on two '70s TV series, "The Mary Tyler Moore Show" and "Rhoda," and for her stint on the '80s show "Valerie." Guess what she looks like now!