Fugitives Run -- The Dog is BACK!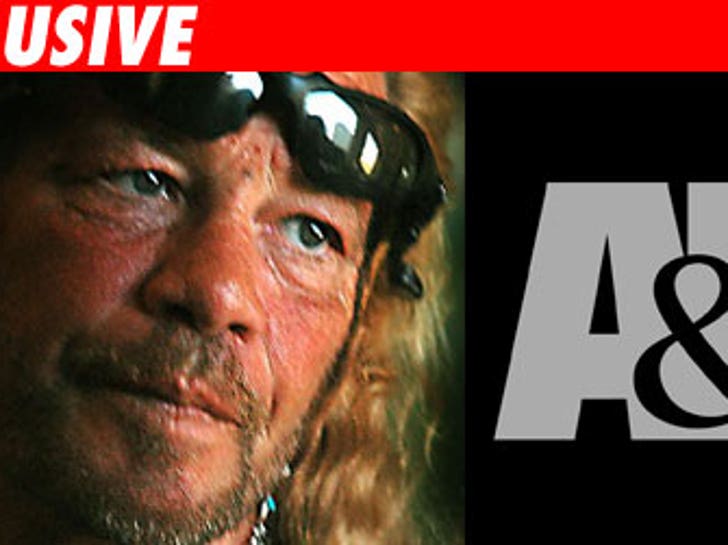 TMZ has learned that Duane "Dog" Chapman will be back in business and back on the air on A&E. Woof!

A network official confirms to TMZ that the show is going back into production, but they've not yet set a premiere date. As of now, they're gearing up -- big time -- in Hawaii and production will begin ASAP. Makeup artists and camera crews have been hired, and houses and cars have been rented, all for the return of the show.
A&E had suspended production on "Dog the Bounty Hunter" indefinitely after a recording surfaced featuring Chapman making racial slurs. Chapman immediately began a tour of forgiveness, working with CORE and other groups to promote racial equality. We're told network execs were "very pleased" with Dog's attempt to make amends and his reaching out to members of the African American community.
A&E isn't just making this decision out of the goodness of their hearts either. The show was insanely popular for the network, here and internationally -- airing in over 20 countries.
K-Fed to Brit - Take the Kiddies for a While
Sources tell TMZ Kevin Federline would like Britney to see her kids, even during the conservatorship. And, sources say the lawyers are in court right now trying to hash out an arrangement for visitation, but as of now they can't reach an agreement.

We're told K-Fed has no prob allowing the kids to visit Brit at her home, with one string attached -- that Brit's parents are present during the visits.
We hear K-Fed isn't worried that anything bad would happen to the kids -- his biggest concern is that Britney might drive with them. But Jamie would be there to put the kibosh on that.
Sources also say K-Fed doesn't want custody 100% of the time -- it's just too much. He'd like Britney to share custody or at least visitation.
And we're hearing there's talk Britney could go to a private facility for treatment and K-Fed would have no problem allowing the kids to visit her there, just as they did when Brit was at Promises.
Paris' Party Train Rolls On
Professional partier Paris Hilton isn't taking any sick days this month. Paris was at The Bank at the Bellagio in Las Vegas last night, flailing about on stage in what appears to be some type of therapeutic swaying.

The night before, she was trashing it up with the Pussycat Dolls, doing her best impression of Rihanna in a dominatrixy getup, then splashing around in a giant martini glass like Miz Dita Von Teese.

Paris -- she's an original, always.
Matthew B. -- Take My Wife's Dog, Please!
Seriously, folks -- could Matthew Broderick be trying any harder to unload this innocent little dog?

Matthew Broderick left his super-cute little pup tied to a parking meter while he went food shopping -- where anyone and everyone could just walk away with their own hot dog.
Check out the story from TMZ TV and check your local listings for airtimes.
This recently honeymooned hottie isn't too big to put in a little time cleaning up after her pups.