"Idol" Record Execs: We're Into the Guys!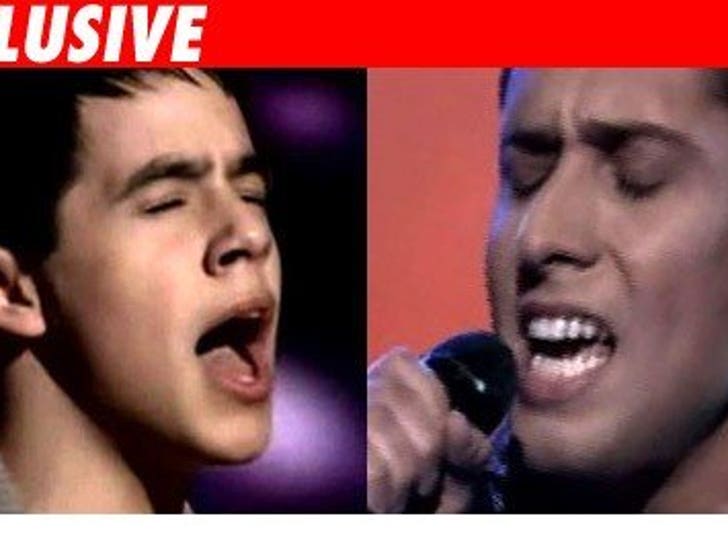 TMZ has learned the recording industry has no interest -- at least for now -- in the "American Idol" girls. Their focus is exclusively on two male contestants.

Well-connected record industry sources tell TMZ the major publishers (including Sony and Warner) have already set their sights on David Archuleta and David Hernandez. The record publishers have
already told their songwriters to write songs specifically for David-squared, whether they win or not.
Sources say this is the earliest publishers have even committed to the contestants.
Brit Bodymen Smack Paps Down
It was a mad scene outside of Intermix yesterday, where the paps butted heads with Britney's security team as the popwreck left the Robertson Store.

After she celebrated her daddy's extended conservatorship with a shopping spree, Brit and her new beret tried to make it to her waiting SUV -- but couldn't get to it without her bodyguard strong-arming a few photogs to clear a path. TMZ tried to ask a few questions, but due to the insane camera crush, she didn't hear anything.
Hilton: Hybrid Hypocrite?
Paris Hilton has officially gone green -- she got herself an enormous mega-SUV -- but she's keepin' her infamous Bentley, too. Baby steps.

TMZ shot Paris and Benji rolling off the lot with a new GMC Yukon Hybrid yesterday, which gets a whopping 20 miles to the gallon. When we asked if she'd still be driving around in her other, less-energy efficient ride, she ignored the photog altogether.
Al Gore, you got company.
Billy Ray -- Miley Cut Off My Willie!
Billy Ray Cyrus did NOT delete Lindsay Lohan's number from his daughter's phone, as the rumors had it -- and he says it was actually Miley who 86'ed one of his friends.

Billy also expressed his love for LiLo, Britney and even preggers Jamie Lynn ... thems some good role models!
Mary Tyler Moore: 'Memba Her?!
Mary Tyler Moore is famous for playing the quintessential single working woman on her self-titled '70s series,"The Mary Tyler Moore Show," as well as Dick Van Dyke's wife on the '60s series, "The Dick Van Dyke Show." Guess what she looks like now!

Kat Heigl: Won't Go Nude for Fur Just Yet
Katherine Heigl was seen sporting a PETA t-shirt while on a run to a local liquor store -- but when asked about it, Kat revealed that it's not quite what it seems!

Sadly, it looks like she won't appear in any of these awesome ads any time soon. Oh well.