Wendy W. to Employee -- Better F*** My Hubby!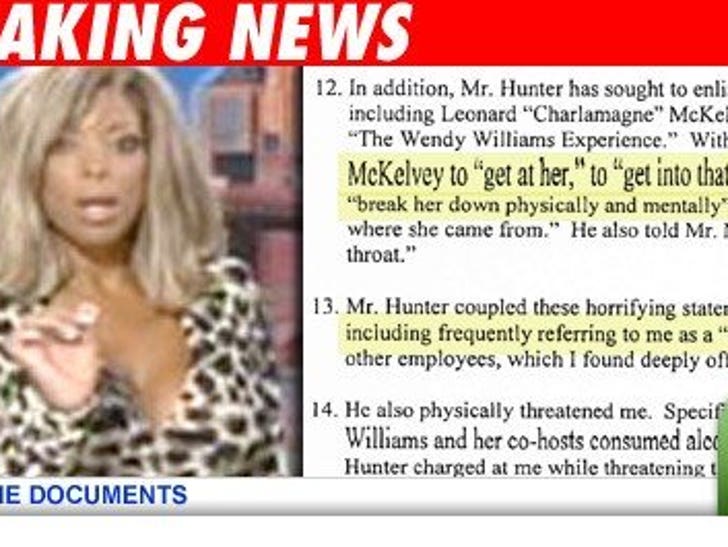 Popular shock jock Wendy Williams and her husband have been drilled with serious sexual harassment charges by their talent booker, who alleges that Wendy tried to pimp her out, ordering her to dress "like a sexy little bitch" for her husband and encouraging her husband's unwanted sexual predation of the employee.

In a complaint filed with the Equal Employment Opportunity Commission, Nicole Spence claims that Kevin Hunter, Williams' younger husband who does not work for WBLS-FM, repeatedly expressed his desire to "f***" her and that she needed "a real man in [her] life to mold me." Spence says that Williams did nothing to staunch the alleged abuse, and in fact "offered to take me shopping so I could dress 'like a sexy little bitch,' as Mr. Hunter demanded."
And it doesn't end there.
Spence also says Hunter got other employees, including Wendy's co-host, to "get into that bitch's head" in order to "break her down physically and mentally." And she also alleges that Hunter once charged at her and that he even assaulted his own wife, "choking her" and "pinning her" against the wall of a studio.
TMZ spoke to Spence's lawyer, Kate Webber, who says that she intends to file a lawsuit in court, after the EEOC reviews the case. Spence is still employed at WBLS. The station didn't respond to a request for comment, though Williams told the New York Post yesterday, "Her allegations are totally false. This bitch is out of her mind."