School Death Plot Targets ... Chuck Norris?!?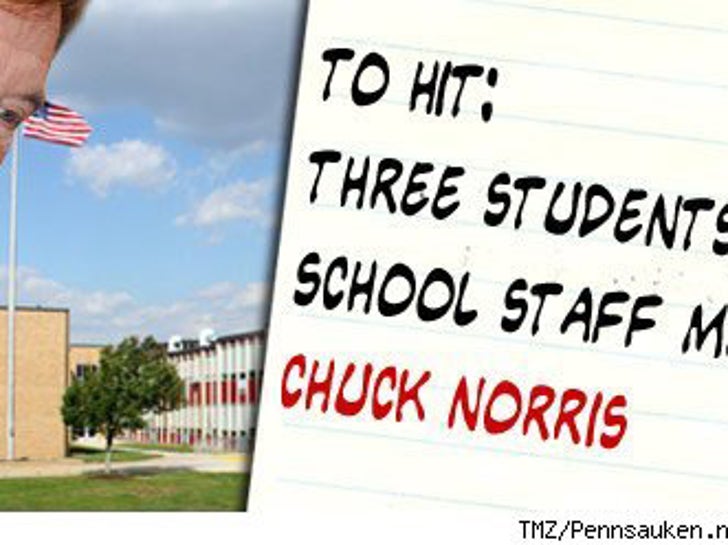 New Jersey cops have arrested two high school students after a teacher found a so-called "hit list" that targeted tough guy actor Chuck Norris. Holy Walker, Texas Ranger!

The students, both juniors at Pennsauken High School, didn't have any weapons on them. The note reportedly included the names of three students and, randomly, Norris.
The boys claim the list was a joke and the local prosecutor says "At this point we believe that this student did not pose any serious threat to any of the people on the list, especially to Chuck Norris." No sh*t.
UPDATE 3:00 PM PT: TMZ just got this exclusive statement from Mr. Chuck Norris himself: "When I learned yesterday (Wednesday) of the story about a high school student in New Jersey faced with expulsion from school and possible other problems after being charged with compiling a "hit list" that contained my name, my first instinct was to say nothing. Not to risk making something out to be bigger than it is.
But I realize that this is not the best course, for such behaviors are exactly the warning signs we have ignored for far too long, emanating from a growing at-risk population of young people in this country.
In today's world, we must always be vigilant, not just in stepping up protection and emergency preparedness in schools, but in reaching out to those lost souls who feel marginalized and disenfranchised by the world around them.
It is what I have been doing for more than a decade with my "KickStart" program, which began in Houston, Texas, teaching 150 at-risk children martial arts as part of the PE curriculum. Since that time, our program, which instills discipline and respect and raises self-esteem, has grown to serve more than 6,000 youngsters year round at 37 schools in Dallas and Houston, Texas. To date, KickStart has graduated more than 50,000 students with many going on to college and becoming successful in their own right."