Rodman's Alleged Victim Has Violent Past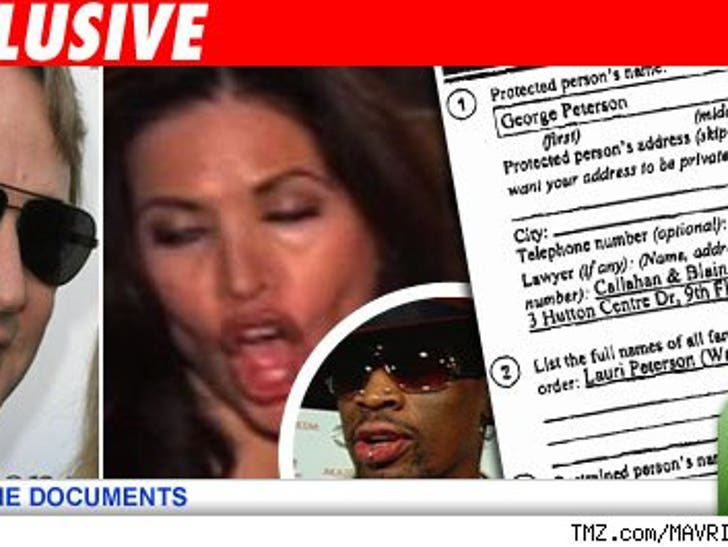 Gina "Gigi" Peterson, the girlfriend Dennis Rodman allegedly smacked around on Wednesday night, had a restraining order successfully filed against her by her ex-husband and father of her four kids -- six weeks ago!

Her ex-husband is actually George Peterson from "The Real Housewives of Orange County." Gina and George separated in '02 and officially divorced in April of 2004.
George then got engaged to his current wife, Lauri Waring, during season two of "Housewives" -- and the (not-so) temporary restraining order filed against Gina forces her to leave George, Lauri and her two kids alone for five years. Gina's list of alleged crazy filed by George is long, and includes gems like:
-- "Gina stated that she wished I were dead, she wishes she could kill me, wishes I had a heart attack ... (and) if she had a gun, she would shoot me."
-- "Gina also has a history of violence against our children (once resulting in an Emergency Protective Order in favor of my eldest daughter ...)
-- "Gina has also physically assaulted me resulting in me falling to the ground."
-- "She even was previously ordered to involuntary psychiatric lock down."
-- "Gina threatens me in (an) email by reference to Dorian Gray, a character in Oscar Wilde's novel, who is found dead at the end with a knife in his heart."
As for her run-in with Rodman, Rodman's manager Darren Prince told TMZ, "Dennis and his girlfriend had too much to drink. When they returned to their hotel they started arguing and a minor altercation broke out where Dennis grabbed her by the arm and left a bruise." Cops are investigating.