One of the Lollipop Guild: 'Memba Him?!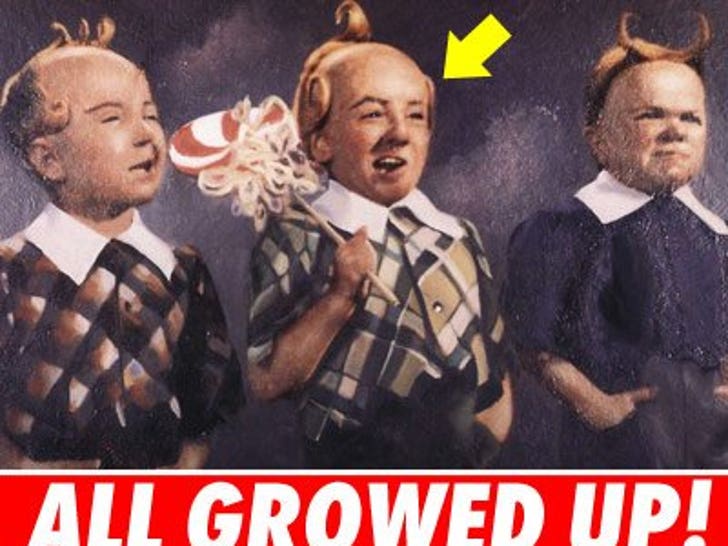 Jerry Maren is best known for playing one of the members of the Lollipop Guild in the 1939 classic "The Wizard of Oz." Guess what he looks like now!

These days it's hard to tell who the real stars are in Hollywood and who's hardly real. While many stars have been nipped, some also look like they have something to tuck.

Hollywood's Grumpy Old Men
Some men get better looking with age -- and some don't. Check out some more of Hollywood's, er, distinguished gentlemen.

Simmons Shocks Congress With No Shorts
Richard Simmons went to speak in front Congress today, but forget the words coming out of his mouth, Mista is actually wearing a suit! You bettah work!

Simmons talked to us about his pet project -- preventing childhood obesity -- and also discussed possibly running for office. Don't fret, the Bedazzler wasn't too far behind. Richie said his infamous shorts were on underneath the Brooks Brothers ensemble.
Oh how the stars love their four legged friends -- so much so that they're starting to look a lot like them! Maybe they have the same groomer.

We often criticize stars for not wearing makeup, but in this case, we take it back! Clearly these celebs need to leave the painting to the painters.

Kim to Shanna: He's Just Not My Type
So we got to the bottom (no pun intended) of the whole Kim Kardashian/Shanna Moakler bitch fight last weekend.

Shanna apparently felt Kim was after Travis because Kim was a model for his clothing line, Famous Stars and Straps. Now Shanna is lashing out on The Dirty, calling Kim a "donkey" and saying, "She's sooo f**king fat. She's 5'2" and she's like 140."
But here's the real deal. A source really close to Kim's fat ass tells us KK is laughing because Travis ain't her type -- as in, he's white and Kim doesn't go there.
KK thinks Shanna is "clearly jealous," adding the drink Shanna threw at her hit her in the foot, not the face.