Balthazar Getty Has Many Hang Ups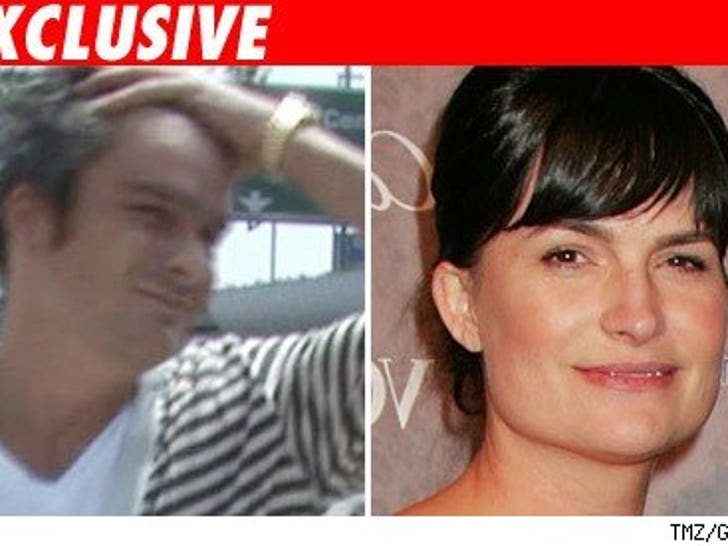 TMZ has learned Balthazar Getty is trying desperately to get back with his estranged wife, but she wants nada to do with him.

As we first reported, after Getty was caught out in the open with a buck naked Sienna Miller, Getty had been emailing wifey Rosetta, "I love you."
Now, in the "You Should Bottle that Chutzpah" department, we've learned Getty continues to send a flurry of emails to Rosetta, the mother of his 4 children. In the emails Getty writes, "I love you," "I miss you," and says he wants to move back into the house. He does not say if he's cut off his relationship with Sienna.
We're also told Balthazar has been calling Rosetta incessantly. She refuses to answer and he hangs up. In short, she wants nothing to do with him.
And the plot thickens. We're told the people on his show, "Brothers and Sisters," for the most part have voiced support for Rosetta. And, we're told, Getty's own family is "solidly behind her," calling the he-homewrecker "disgusting."
Verne to Sex Tape Co-Star: You Beat Me!
Verne Troyer is suing Ranae Shrider, his former GF and sex tape partner, alleging she battered the hell out of him.

In the lawsuit, which will be filed in Federal court any moment, Troyer is accusing Shrider of intentional infliction of emotional distress and battery.
Verne's killer lawyer, Ed McPherson, tells TMZ, "When you pick up a 2'8" human being and throw him to the floor, it hurts."
Others will be sued as well, including a lawyer who allegedly tried to broker a deal for the sale of the sex tape.
In the lawsuit, Troyer basically says the chick terrorized him, once picked the lock to his bedroom door, pushing away a 100 pound scooter that was used to block the door, and then throwing him to the floor."
Troyer claims his damages from all that Schrider did to him exceed $20 million.
LAPD Top Cop: Thank God Lindsay's Gay!
LAPD Police Chief William Bratton says there's no need for laws against the paparazzi anymore, since Britney's sane again, Paris is M.I.A., and Lindsay's living a quiet life in Lebanon.

Bratton says he'll oppose the L.A. City Council proposal to regulate pappers.
SJP and MB: Lights, Camera, Relationship
Sarah Jessica Parker and Matthew Broderick had dinner in NYC last night despite rampant Internet rumors about Matthew cheating. If they go out in public together then they must be happy!
Looks like neither has broken things off yet, via Post-it or otherwise.
Barack's Got a Little Hick in 'Em
John McCain better watch his hide -- Barack Obama's got a real bona-fide gunslinger on his side.
Turns out that Obama and Wild Bill Hickok are cousins -- ok, so sixth cousins, six times removed -- but they're still related.
Obama fessed up during a speech in Springfield, Mo. The crowd thought he was joking. But the St. Pete Times found out that it's true ... just like Barack and Brad Pitt are ninth cousins.