Jenny Craig Hits It Big With Queen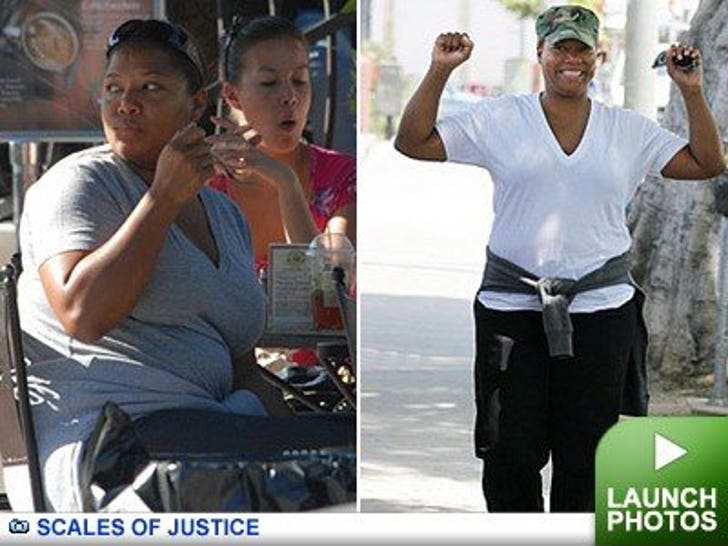 The Queen Latifah/Jenny Craig ad may be a stroke of genius.

We're hearing there's a new strategy in Jenny Land - Zero Embarrassment. After Kirstie Alley lost a ton of weight for the commercial, gained it back and then some, it looked as if Jenny's plan just didn't work long term.
So the new plan...get someone who can look good by losing a relatively small amount of weight -- In Queen's case, 20 lbs. She looks really good, if not svelte, but if she gains it back it's not going to look like Jenny Craig was a failure.
Who'd You Rather? Olympians vs Stars -- The Men
U.S. swimming star Michael Phelps or George Clooney?

Who'd You Rather? Olympians vs Stars -- Ladies
Beach volleyball star Misty May-Treanor or Heather Locklear?

Don't we know -- the line between edgy and offensive is a slippery slope ...

Ja's Bod Rules Kanye -- Does It Matter!?
Pop quiz hotshot: You've got two rappers -- Ja Rule hits the Rehab party in Vegas with a scorching hot body ... and a less-than-luke warm career. Kanye -- THE most powerful man in hip-hop -- hittin' a basketball court in Hawaii with a physique that proves he really is living the good life!

Spencer: Michael Phelps Ain't Nothin'
The thought of Spencer Pratt in a Speedo is enough to make anyone throw up in their mouths -- but Heidi's delusional BF says he'd take on Michael Phelps in the Olympics and win.

Sienna Kisses Her Butt Goodbye
Sienna Miller kissed her married boyfriend, Balthazar Getty before heading for LAX, where a pretty accurate papper called her a "homewrecker." She was none too happy, but if the truth fits ...

Suri Converts Doll to Scientology
It appears Suri Cruise has experience talking to inanimate objects ...