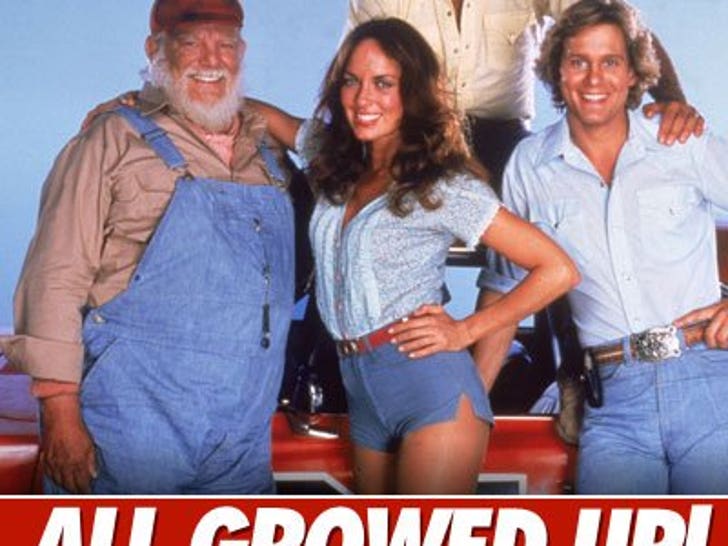 Catherine Bach -- and her short-shorts -- became famous for playing Daisy Duke on the '70s/'80s series "The Dukes of Hazzard." Guess what she looks like now!

Age Ain't Nothin' But a Number
Think you know who's older? We'll just see about that.
Miley's BF Strikes a Pose
Miley Cyrus's God-fearing underwear model boyfriend doesn't need Annie Leibovitz to take racy pics.

These photos show 20-year-old Justin Gaston partying shirtless, flipping the bird and wearing short-shorts at a party not too long ago in the Hollywood Hills. This is gonna break Billy Ray's achy breaky heart.
Imagine what the pics would have looked like if alcohol had been involved!
Some celebs don't need fans salivating all over them because they do a pretty good job themselves.

Please Welcome to the Stage ... Sarah Palin?
Sarah Palin has the North Pole.... Sarah Palin look-alikes just have a pole.

Club Paradise in Vegas is calling all Palin imitators to shimmy and shake down the runway in their hottest eyewear tonight. Best part: First prize is $10K and a trip to exotic Washington, DC.
No plans as yet have emerged for a similar John McCain-inspired show ... for the ladies.
It Doesn't Take $150,000 to Look This Good
The RNC may have shelled out $150k to turn Governatrix VP hopeful Sarah Palin into Caribou Barbie, but how much is Barack Obama shelling out for his threads?

Our cameraman managed to get up close and personal with Barack in Virginia today to ask the $150,000 question.
Not even the stars can escape the vengeful wrath of the dreaded meter maid. It's time to pay up, cuz their time has expired!

A Dog and a Horse, Of Course, Of Course
Please don't eat the house pets.

A 12-year-old stallion chased after a Belgian shepherd in Frankfurt.
Who knew they ate dog in Germany?