Lawsuit: You Screwed Me Out of Bruce Willis!?!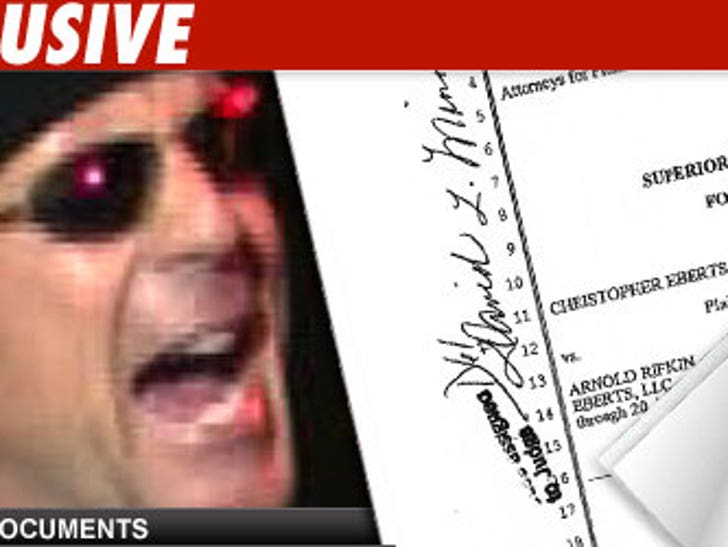 Everybody hates a name-dropper -- and now the former president of the all-powerful William Morris Agency is being sued for allegedly tossing around Bruce Willis' name to finance a bunch of movies.

The guy in the dog house is Arnold Rifkin, who co-founded a major production company with Bruce Willis in 1999 that put out about 15 movies -- but they went their separate ways in 2006.
In 2007, Rifkin and a guy named Chris Eberts started their own company -- Rifkin-Eberts, LLC -- and Eberts claims he was led to believe Bruce Willis was still Rifkin's pal -- the kind of pal "committed to starring in future projects."
In a lawsuit filed today in L.A Superior Court, Eberts says he was sold a bag of lies -- claiming Willis never got anywhere near the company's flicks and Rifkin never put together talented crews, established good credit lines and was not "well regarded in the Hollywood community."
Ebert is suing Rifkin for over $3 million of alleged unpaid debt associated with their company's movies: "Timber Falls," "Stag Night," and "Night Train."
UPDATE: We just spoke to Rifkin's lawyer, Glen Rothstein, who said: "First, we categorically deny all accusations Mr. Eberts is making... We currently have a pending arbitration against him, suing him for between $5-10 million.
Eberts lawyer sent the American Arbitration Association a letter saying he has "insufficient funds" to pay a $10,000 fee associated with the arbitration. Eberts is also named in numerous lawsuits filed within the last year.
Obviously, this is a nuisance, but I am confident Mr. Rifkin's rights will be vindicated."