Bailout Bank Blows Millions Partying in L.A.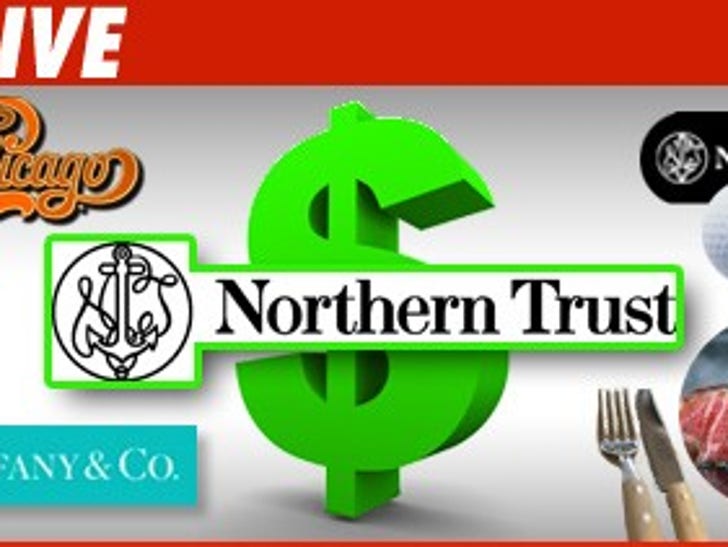 A bank that received $1.6 billion in bailout money just spent a fortune last week in L.A. hosting a series of lavish parties and concerts with famous singers ... and TMZ cameras caught it all.
Northern Trust, a Chicago-based bank, sponsored the Northern Trust Open at the Riviera Country Club in L.A. We're told Northern Trust paid millions to sponsor the PGA event which ended Sunday, but what happened off the golf course is even more shocking.

Northern Trust flew hundreds of clients and employees to L.A. and put many of them up at some of the fanciest and priciest hotels in the city. We're told more than a hundred people were put up at the Beverly Wilshire in Bev Hills, and another hundred stayed at the Loews Santa Monica Beach Hotel. Still more stayed at the Ritz Carlton in Marina Del Rey and others at Casa Del Mar in Santa Monica.
- Wednesday, Northern Trust hosted a fancy dinner at the Ritz followed by a performance by the group Chicago.
- Thursday, Northern Trust rented a private hangar at the Santa Monica Airport for dinner, followed by a performance by Earth, Wind & Fire.
- Saturday, Northern Trust had the entire House of Blues in West Hollywood shut down for its private party. We got the menu -- guests dined on seared salmon and petite Angus filet. Dinner was followed by a performance by none other than Sheryl Crow.
There was also a fabulous cocktail party at the Loews. And how's this for a nice touch: Female guests at the Chicago concert all got trinkets from ... TIFFANY AND CO.


As for what all that costs: Well, the company isn't talking. We spoke with a rep from the band Chicago who said Northern Trust paid them around $100,000. A House of Blues source told us it cost more than $50,000 to close the joint down last Saturday night. As for Sheryl Crow's fee, her rep didn't get back to us. Earth, Wind & Fire acknowledges payment but won't say how much.
As for the golf tournament, a rep from the PGA told us Northern Trust wrote one big fat check in order to sponsor the event. That check covers part of the $6.3 million purse, the advertising costs for the spots on CBS (which broadcast the final two rounds of the tournament) and operating costs. The rep says the fee was negotiated and is confidential.
Lots of people from Northern Trust went to the golf tourney ... in special Mercedes that shuttled them to and from the hotels. But for those who weren't into golfing, they could spend a few hours at the Northern Trust seminar on the
Now how's this for outrage? Northern Trust laid off 450 workers in December, 4% of its workforce.
And here's what's absolutely amazing: The United States Government flat out gave Northern Trust the $1.6 billion in bailout money, and the bank didn't even request it!
Northern Trust gave us a statement yesterday before going total radio silence. A rep for the bank acknowledges they paid for the events, but that the bailout money did not pay for the events. He claims it was paid out of the bank's operating expenses. Here's Northern Trust's
Perhaps we're missing something, but money is money. How can they spend like this when they're using taxpayer's money, whether they asked for it or not? And where the hell is Congress in all of this? Is there any oversight or accountability?
Your tax dollars, hard at work. Thomas Jefferson was right -- "A little rebellion, now and then, is a good thing."