Britney's Roadies Busted for Fighting Cops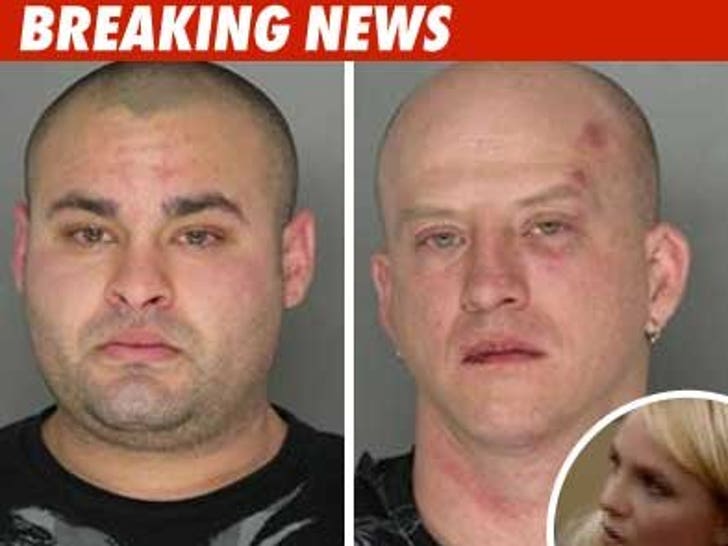 Two roadies working on the Britney Spears "Circus" tour made a hit record of their own last night -- after cops say they got into a crazy street fight with police officers.
It all went down last night in Pittsburgh, when cops say they saw Rockey Dickey (right) -- a member of Brit's road crew -- punching some random dude in the face. When an officer tried to stop the fight, Dickey allegedly turned and took a swing at the cop.
Cops said Dickey would not cooperate when officers tried to handcuff him, and a taser was used to subdue him. But it gets worse...
Officers say Alex Montes (left)-- who also works for Britney Spears -- tried to save his buddy by putting one of the arresting officers in a headlock. Cops say Montes managed to leave the scene, but he was located and arrested a short time later.
According to WPXI, the station that broke the story, Dickey and Montes have been charged with criminal conspiracy, disorderly conduct and public drunkenness. Dickey is also charged with simple assault and resisting arrest.
Spears is set to play Mellon Arena in Pittsburgh Friday night -- minus two employees.
UPDATE: This statement was just put on Britney's website: "Last night two employees of a company contracted to provide equipment for The Circus Starring Britney Spears tour were arrested in Pittsburgh, PA. However, neither of the men involved are employees of the tour or Ms. Spears. The two individuals have since been dismissed by their employer. The Circus Starring Britney Spears tour does not support or tolerate this type of behavior."