Mel Gibson's Wife Files for Divorce
Mel Gibson's Wife
Files for Divorce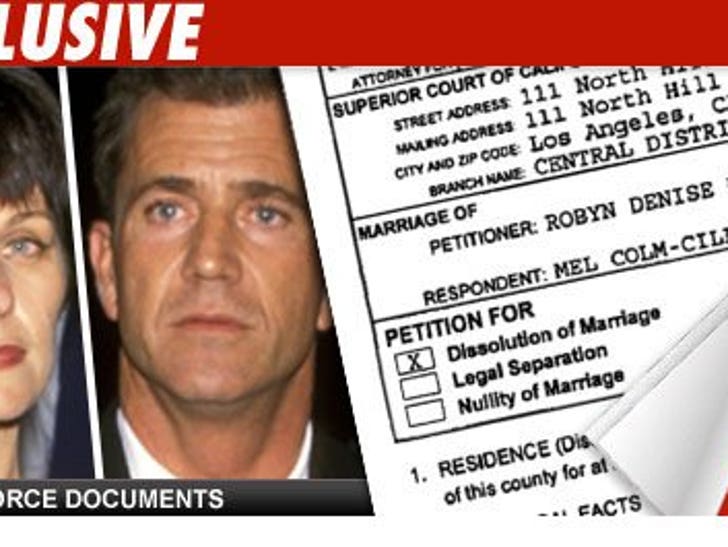 We've learned Mel Gibson's wife Robyn has just filed legal papers to divorce Mel Gibson, her husband of 28 years, citing "irreconcilable differences." Pretty ironic -- Robyn signed the papers the day before Good Friday.
Sources tell us there is no prenuptial agreement -- they were married in 1980, before Mel Gibson amassed a fortune estimated at $900 million back in 2006. Under the laws of California, community property -- which includes earnings -- is divided 50/50.
The Gibsons have 7 children, but only one -- Tom, who turns 10 tomorrow -- is a minor. In Robyn's legal papers, filed this morning in L.A. County Superior Court, she seeks joint physical and legal custody of Tom.
Robyn is also asking for spousal support and attorneys fees.
Robyn lists the date of separation as "to be determined." This is important, because earnings generally cease to be community property when the couple separates. There could be a skirmish over this. We're told the couple grew increasingly apart over the last few years, especially since Mel's drunk driving arrest in 2006.
There have been reports that Mel has been involved with another woman, which the actor denies, but we're told the reasons for the divorce go beyond any third party.
If there is a fight, Robyn is in good hands -- she's repped by disso-queen Laura Wasser, who has handled divorces for the likes of Angelina Jolie, Britney Spears and Stevie Wonder.
UPDATE: Robyn and Mel Gibson just issued a statement: "Throughout our marriage and separation we have always strived to maintain the privacy and integrity of our family and will continue to do so."
Sources tell TMZ the couple has been separated for more than 2 1/2 years. We'll see if Robyn agrees. Again, the separation date is important in dividing assets.