Jackson's Last Will -- Diana Ross Mentioned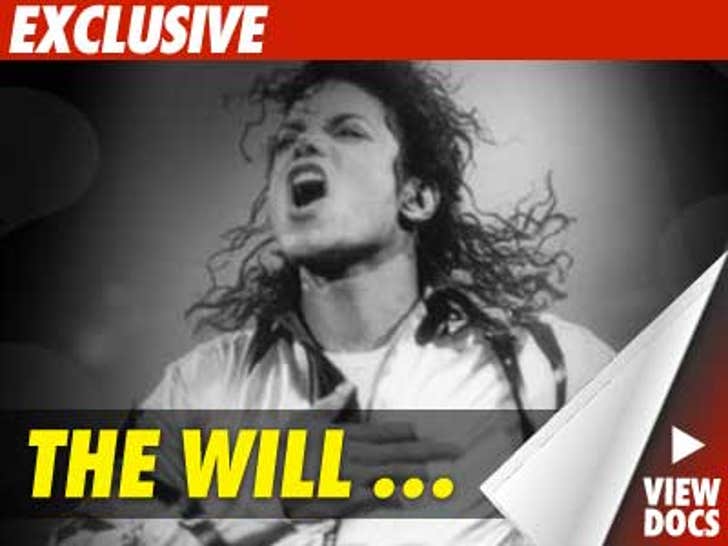 Michael Jackson's will has been filed with the court. Jackson asks that his mother, Katherine, be made the guardian of all three of his kids. The will says if Katherine died before him or couldn't serve as guardian, he nominated Diana Ross.
And there's a petition filed along with the will, saying Jackson's estate is worth more than $500,000,000. The petition says almost all of the estate "consists of non-cash, non-liquid assets, including primarily an interest in a catalog of music royalty rights which is currently being administered by Sony/ATV, and interests in various entities."
As we first reported, the will leaves everything to the Michael Jackson Family Trust, stating, "I give my entire estate to the Trustee or Trustees..."
The will has been misinterpreted in reports -- suggesting that Debbie Rowe was intentionally excluded. Jackson has even excluded his own children from getting property under the will. But all that means is that the trust he created will control the distribution of property.
The will names John Branca, John McClain and Barry Siegel as co-Executors. Branca was Jackson's lawyer, McClain is a music exec and Siegel was Jackson's accountant. But Siegel resigned from his role as executor in 2003.
Branca and McClain just released the following statement: "The most important element of Michael's will is his unwavering desire that his mother, Katherine, become the legal guardian for his three children."

We now know what's in Michael Jackson's will -- for starters, he never said where he wanted to be buried.
We've learned the will -- which will be filed today -- is 5 pages long. As for who gets what -- Jackson's entire estate goes to the Michael Jackson Family Trust. The trust documents are not included in the will and the contents of the trust remain confidential.
We're told the trust provides for Michael's children and mother, and distributes money to several charities.


Michael's Will -- Katherine Should Get Custody
There are reports that Michael Jackson's will says the singer wanted his mom, Katherine, to get custody and wanted assets to be placed in trust.
The will, according to the AP, lists Jackson's lawyer, John Branca, and John McClain, a music exec, as executors.
The will has not been filed with the court.
As for custody -- the will does matter, but ultimately the decision on who gets custody is in the hands of the judge.
Jackson's Dad Aced Out of Will
Michael Jackson signed a will in 2002 providing for his children and his mom, but leaving nothing to daddy Joe -- this according to the Wall Street Journal.
As we reported yesterday, attorney John Branca has the will and plans to file it with the court within 30 days of the singer's death. According to the will, Jackson reportedly left his estate -- estimated at $1 billion -- to his mother, three children and one or more charities.
As for why Joe was left out -- Jackson has said during his childhood his father beat him.


Michael Jackson's Estate in Court
Initial papers have been filed with the court to probate Michael Jackson's estate. But it seems Jackson's mom and dad don't know Jackson had a will.
The petition was filed by Michael's parents, Joe and Katherine Jackson. But here's the thing. The papers say Jackson died "intestate" -- that means, without a will.
But we've learned Jackson's long-time lawyer, John Branca, who just came back on board 3 weeks ago, has a will Jackson signed that he intends to file within 30 days.
The petition asks that Katherine be named as administrator of the will ... meaning she wants to call the shots.
The papers say Debbie Rowe will be served with notice of a hearing.