Jackson Used Employees' Names to Score Drugs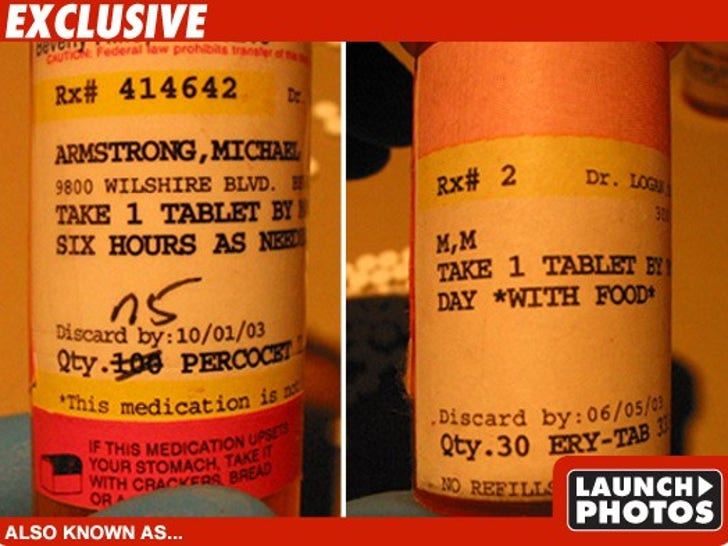 Michael Jackson went to a variety of doctors to get strong narcotics and used multiple aliases (including the names of several employees), this according to notes compiled during the Santa Barbara County Sheriff's investigation back in 2004.
Sheriff's detectives interviewed Chris Carter, who worked as Jackson's bodyguard prior to the Sheriff's raid of Jackson's home in 2003. According to Sheriff's Department notes obtained by TMZ, Carter said he would get Xanax prescriptions for Jackson under various fictitious names. Carter told detectives that Jackson would even use his name and the names of other employees to score prescriptions.
In addition to using his name, Carter said Jackson would use the names of Frank Tyson (a Jackson employee who was a prominent figure in the molestation trial, having had numerous contacts with the accuser's family), Jesus Salas (Ranch manager) and Joe Marcus (another Jackson employee) to get prescriptions.
Various pill bottles were found at Jackson's Neverland Ranch. One bottle of Alprazolam (generic for Xanax) was prescribed for Frank Tyson by Dr. Arnold Klein. A bottle of Prednisone found at the Ranch was also prescribed by Dr. Klein in the name of Peter Midani.
A bottle of Percocet, a narcotic painkiller, was found with the name Michael Armstrong, prescribed by Dr. Gerald Labiner.
A bottle of ERY-TAB, an antibiotic, was found with the name "M,M." The prescribing doctor was Dr. Carey Logan from Las Vegas.
A prescription receipt from a pharmacy was found for Alprazolam (generic Xanax) and written for Frank Tyson by Dr. William VanValin. Another receipt from Dr. VanValin was for written for Xanax in the name of Manuel Rivera.