Hands Off, Maria Shriver!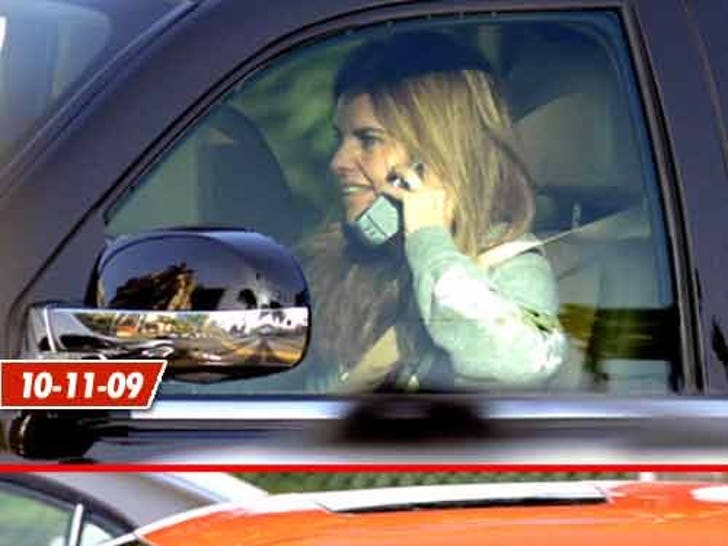 Maria Maria, cell phone cheatah! It appears Maria Shriver broke the law prohibiting driving under the influence of a cell phone -- a law her hubby supported and signed into law last year.
Kaleefornia Governor Arnold Schwarzenegger apparently can't lay down the law in his own home. Maria was photographed twice driving her car while holding her cell phone -- most recently last Sunday in Los Angeles.

Had Shriver been busted, she would have owed the bankrupt state of California $20 plus fees for the first offense.... $50 plus fees for the second. BTW, we need every dime we can get.
We called the Guv's office and Maria's rep yesterday -- radio silence.
Arnold -- She Just Doesn't Listen!!!
Dear Gov. Schwarzenegger,
While you were Twittering a few minutes ago about the "swift action" coming to Maria, your scofflaw wife was at it again -- jawing away on a handheld cell phone while driving in Brentwood.
But it gets worse ... while Maria was illegally yappin' away (the third time she's been photographed doin' it) she saw our cameraman catching the illegal activity on tape -- and that's when she dropped the phone in an attempt to cover it up! The tape does not lie....
Arnold, the fines are bad enough -- but do you have any idea what your Verizon bill is gonna look like?
Arnold: My Wife's in Trouble Now!
Maria Shriver's in hot water....
Governor Arnold Schwarzenegger has finally caught wind of his wife's illegal -- and habitual -- cell phone antics ... and now he's finally gonna do something about it!
Ahnald just went on Twitter and dropped the following note to Harvey Levin:
"Thanks for bringing her violations to my attention. There's going to be swift action."
Those Democrats -- they never learn.... right Arnold?
Jon Gosselin Ordered to Return $180,000
Jon Gosselin has been ordered to return $180,000 in marital funds, which were removed in violation of an arbitrator's order.
According to Kate's lawyer, Mark Momjian, "The remaining sum of $55,000, which Ms. Gosselin used for household bills and expenses relating to the children, will be subject to further determination by the arbitrator at a later date."
Jon is required to repay the loot by October 26 -- the next hearing -- or appear before the judge for a contempt proceeding.
Kate says, "As difficult as this has been for me, I am pleased that the Court has ruled fairly on behalf of myself and my children. Now that this matter has been ruled on, I look forward to returning to private arbitration, as we have agreed to do, to resolve any remaining issues."
Oprah in Texas -- Weiner Takes All
The wait is over ... media icon and weight loss guru Oprah Winfrey just announced her latest breakthrough diet -- corn dogs smothered in mustard.
Oprah and BFF Gayle King took a road trip to the Texas State Fair in Dallas yesterday to tape a special show -- which will air later this fall -- and based on the pictures we got of Oprah in a cowboy hat chowing down on a corn dog, she completely gave up on the traditional low-fat approach to dieting -- at least temporarily.
Our fair source claims Oprah also had herself a little of the fair's famous deep fried butter. No joke ... but so far, no confirmation on the battered butter from O's peeps.
Still, that's the kind of diet we can wrap our arms around.
UPDATE: It's confirmed -- Oprah ate the fried butter! In fact, she called it "the best treat of the fair."
What's the Big Friggin' Difference?!
Listen up sports fans, 'cause we got ourselves a good ol' fashion picture hunt. So strap on your spy shades and whip out your binoculars cause this picture hunt is about to go down!
**Hint -- there are THREE differences in the above photos!**
Rock Goddess Pat Benatar: 'Memba Her?!
In the '80s, Pat Benatar became famous with hits like "Love Is a Battlefield," "Shadows of the Night" and "Hit Me With Your Best Shot." Guess what she looks like now!
These dashing dudes sit like dainty dames!
Kabbalah-Bling -- Totally Strung Out!
Once Madonna strapped one on, the little red bracelets became more popular than Ed Hardy shirts at a poser party! Check out who's rockin' the string!
Dollah Dollah Bills Ya'll
Money talks in Hollywood. Check out which celebs just won't shut up!
Some mistakes work themselves out, while others stick around for life as a reminder of how dumb you used to be!
Whether these "Harry Potter" look-alikes really belong in Hufflepuff, Gryffindor, Ravenclaw or Slytherin is up to you -- but check out which celebs really had us seeing double double toil and trouble.