Dr. Murray Search Warrant in Jackson Case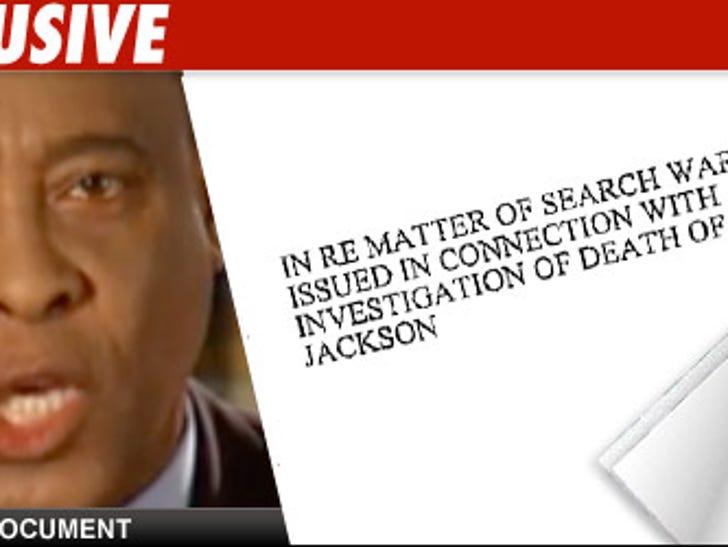 The judge has unsealed the search warrant issued against Applied Pharmacy Services in Las Vegas ... where authorities believe Dr. Conrad Murray obtained the Propofol that ultimately killed Michael Jackson.
According to the affidavit, during the search of Dr. Murray's home and office, cops recovered a sales receipt from Applied Pharmacy. The receipt showed that on May 12, 2009, Dr. Murray purchased 4 100 ml vials of Propofol. He also purchased 3 vials of benzos. One of the drugs Murray purchased -- Flumazenil -- is actually an antidote to a benzo, used to counteract the effects of benzos.
The receipt for the drugs totaled $853, with a $65 FedEx fee to overnight the drugs.
The affidavit states that cops were on the hunt for Visa and FedEx information linking Dr. Murray to the sale of Propofol by Applied Pharmacy.
The affidavit says at the scene of Michael Jackson's death at his home, Propofol was recovered "in Dr. Murray's doctor's bag and on the bedside table." The Propofol was in 20 ml and 100 ml bottles.
According to the affidavit, Dr. Murray told cops he was not the first doc to introduce Jackson to Propofol. Dr. Murray stated Dr. Arnold Klein and Dr. Allan Metzger had given Jackson medicine that was not working.
And there's this ... according to the docs, "Detectives interviewed Grace Owanda (sic), Jackson's children's nanny. Owanda stated that Jackson was currently being treated by Dr. [Arnold] Klein and the last physician to treat Jackson was Dr. Larry Koplin."