NBC to Conan O'Brien -- The Choice Is Yours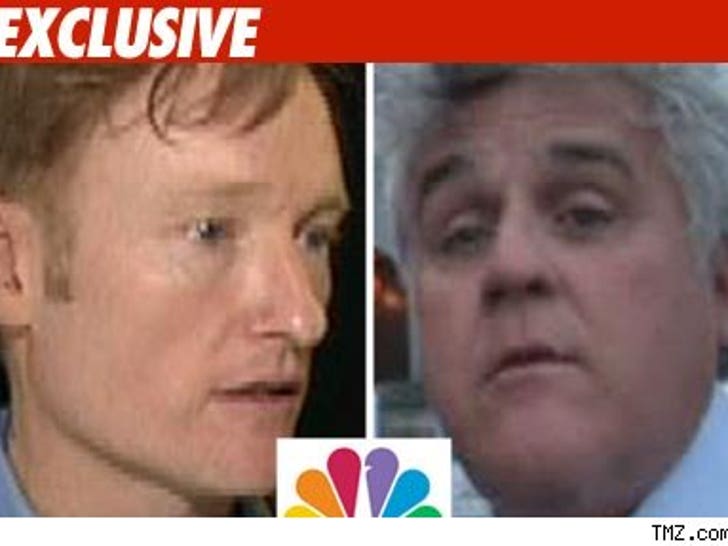 NBC has given Conan O'Brien the option to either do his show from midnight to 1 or leave the network, sources tell TMZ.
As TMZ first reported, after the Olympics, Jay Leno will get his 11:30 PM time period back. We're told network execs have told Conan they will let him decide if he wants the midnight to 1:00 AM time slot. If he does, Leno's show will only be a half hour. If Conan walks, Leno will get a full hour, informed sources tell TMZ.
Our sources say Conan has not decided what he wants. We do know he's pissed, because he was given no advanced warning this was coming. Conan's people told NBC they are considering the offer. Translation: Mr. O'Brien -- I have Rupert Murdoch on line one, Stephen McPherson on line two, John Landgraf on line three, Jeff Wachtel on line four ...
We're told if Conan gets another offer, even though NBC could block the move, they will let him go and give Leno the full hour.
FOX on Conan O'Brien -- We're Not Saying No...
Conan O'Brien may have a late night option if the NBC thing doesn't work out -- TMZ has learned FOX isn't exactly backing away from the idea of bringing him to their network.
As we first reported, NBC is giving Conan the option of taking the midnight spot after Jay Leno, should he so choose.
But a source at FOX -- a logical landing point should Conan become a free agent -- tells TMZ that while they are "always interested in late night" and always "looking to bring great talent to FOX," Conan is still under contract with NBC, so FOX will "just have to see" what happens.
One possible selling point FOX can make to Conan -- they can offer him an 11:00 PM time slot ... 35 full minutes before Jay or David Letterman take the air.
Madonna & Sean Penn -- The Secret Dinner Date
Madonna must have tucked Jesus into bed early last night, because she had an extremely long dinner date with another man ... a man she used to be married to ... a man by the name of Sean Penn.
The couple, who had a volatile marriage from 1985-1989, hit up the Alain Ducasse restaurant at the St Regis Hotel where they spent more than three hours dining together.
FYI -- Madonna went home alone.
The Proclaimers: 'Memba Them?!
The twin brothers Craig and Charlie Reid made up the band "The Proclaimers" and became famous for their song "I'm Gonna Be(500 Miles)." Guess what they look like now!


Hammin' it up for the cameras usually runs in the family. Check out these celebuspawns giving us a show.
Kabbalah-Bling -- Totally Strung Out!
Once Madonna strapped one on, the little red bracelets became more popular than Ed Hardy shirts at a poser party! Check out who's rockin' the string!
Hollywood's Puppets and Muppets
Have some of LA's biggest stars gotten their signature look from a fuzzy friends?
From "Oh, The Places You'll Go" to "Odyssey" books are a great way to escape from the mundane.